Supplementary Planning Documents, briefs and advice notes
The South Downs National Park Authority (SDNPA) produce a range of documents which add further detail to the policies in the Local Plan. They can be used to provide further guidance for development on specific sites, or on particular issues, such as design.
Local Heritage List Consultation June 2018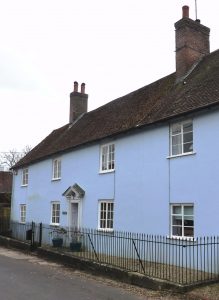 The SDNPA is considering creating a Local Heritage List (LHL) which will cover the entire park. This is one way of identifying non-designated heritage assets.
In practice, this does not provide any extra direct controls and it isn't the equivalent of listing. However, paragraph 135 of the National Planning Policy Framework says that, should a planning application be submitted which affects the significance of a non-designated heritage asset, that effect should be taken into account when determining the application.
If the LHL is to be successful, it needs to be based on a rigorous and transparent system and the first step in achieving this is to establish the criteria against which potential additions to the LHL can be assessed. To that end, a draft set of criteria and a guidance note which attempts to explain them have been prepared.
Eventually we will invite amenity societies and local councils to offer suggested additions to the LHL, so it is important that the documents are as clear as possible. We would be very pleased to receive any comment or suggestion that you think would improve the criteria and guidance notes. These should be sent by email to HistoricBuildings@southdowns.gov.uk or in writing to The Conservation Officer, South Downs Centre, North Street, Midhurst, West Sussex GU29 9DH.
This consultation closes on the 30 July 2018
---
Wealden Heaths Phase II Special Protection Area Supplementary Planning Document (SPD)
The Wealden Heaths Phase II Special Protection Area SPD provides guidance for applicants where development proposals will result in a net increase in residential development (including Traveller Accommodation) within 400 metres of the Wealden Heaths Phase II Special Protection Area (SPA). The document sets out the approach that East Hampshire District Council and the SDNPA will take to help meet the need for Gypsy, Traveller and Travelling Showpeople accommodation and rural affordable housing exception sites as this need cannot be met solely outside of the 400 metre buffer zone.
The SPD was adopted by the SDNPA on 12th July 2018 and East Hampshire District Council on 31st July 2018.
The adopted Wealden Heaths Phase II SPD, SEA Screening and Environmental Impact Assessment can be accessed as follows: