Key Documents
There are numerous key documents being developed by the South Downs National Park Authority (SDNPA), we also have some key reference documents – some of which are shown below.
Local Code of Corporate Governance
Partnership Management Plan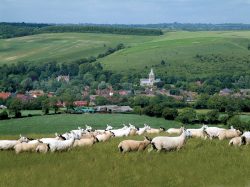 The Partnership Management Plan (PMP) is a long–term strategy that provides a way for everyone to work together to conserve and enhance the special qualities of the South Downs National Park for the benefit of the landscape, residents, visitors and future generations. It is a partnership plan for this special place, not a business plan for any individual organisation or group. The SDNPA's own business plan contributes to its outcomes, as will our Local Plan when adopted, but so too do the plans of many other bodies.
The plan was put together in close partnership with a wide range of stakeholders including communities, farmers, businesses, walkers and cyclists, conservation organisations, government agencies. It describes for everyone our shared vision for how we all would like the National Park to be in 2050 and the broad outcomes that will get us there. It also has a five-year rolling action plan, and as this is now coming to an end a new one is being developed.
National Park Local Plan
The Local Plan will include all of the planning policies for the National Park, shaping how it will develop into the future. It is a major piece of work setting out for the first time how we will meet our responsibilities to protect the landscape while serving the needs of our communities and the local economy.
Climate Change Adaptation Plan
Climate Change is shaping up to be one of the main causes of environmental change for the National Park in the future. Its impacts on the landscape are likely to be significant and profound – though there are many potential opportunities over the longer term. It is necessary for the National Park Authority to plan ahead in relation to potential climate change impacts. A Climate Change Adaptation Plan is the best way to achieve this.
The Adaptation Plan seeks to:
assess the current and predicted impacts of climate change in relation to their purposes and statutory functions;
conduct an assessment of the risks and opportunities this presents to the assets of the National Park and the business of the Authority;
prepare an action plan that includes proposals for adaptation responses that adequately address the risks presented by climate change.
Our work, both in terms of policy and delivery, needs to be sighted on the full range of potential impacts relating to climate change. We need to co-ordinate effort with all our partners and work to deliver shared actions across the National Park.
The South Downs National Park Authority and its partners have a key role in meeting the challenges and opportunities it may present. The Adaptation Plan sets out how we intend to do this. It includes a long-term action plan which we will need to keep under review.
Corporate Plan
Statement of Accounts
Financial Procedures & Regulations
Peer Review
Annual Review
Research