Local Access Forum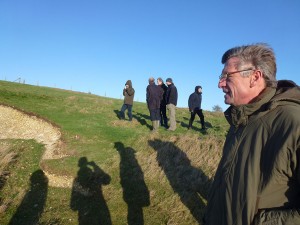 The South Downs Local Access Forum (SDLAF) advises the National Park Authority and others on how best to manage access to the countryside in the National Park. It is an independent statutory body with seventeen members who represent the views of recreational users, land managers and others with an interest in countryside access. The main function of this group is to look at how the public rights of way network and access land is managed and improved. Forum members will also be asked to comment on broader access, transport and countryside subjects.
A Local Access Forum is a statutory body and, by law, the organisations that they give advice to must have regard to that advice.
A Local Access Forum needs to have a range of members that reflect the views of both land managers and recreational users of the countryside. The forum may also have members who represent the interests of conservation, tourism, people with disabilities, transport or other interests.
The function of the Local Access Forum is to advise on the improvement of public access to land for the purposes of open-air recreation and the enjoyment of the area.
In carrying out its functions, the Local Access Forum shall have regard to;
The needs of land management
The desirability of conserving the natural beauty of the area for which it is established, including the flora, fauna and geological and physiographical features of the area
The minutes of the South Downs Local Access Forum can be downloaded from the previous meetings section below.
Forthcoming Meetings
The next meeting will be held on Tuesday 23 January 2018 at Beeding & Bramber Village Hall, High Street, Bramber, BN44 3WN.
Agenda for SDLAF Meeting 23 January 2018
Item 3: Minutes of Last SDLAF Meeting – 30 November 2017
Item 4: SDLAF Update Jan 2018
Item 5a: Site Visit to Annington Hill –  Map
Item 5b: Site Visit to Annington Hill – WSCC Public Path order
Item 6: Work Program 2018
Tuesday 17 April 2018
Tuesday 17 July 2018
Tuesday 23 October 2018
Minutes of previous meetings
Minutes of 30 November 2017 SDLAF meeting (Unconfirmed)
Minutes of previous SDLAF meetings
Annual Report
This brief report provides an insight into the activities of the Forum over the last eighteen months. A wide range of outdoor access related topics have been considered at LAF meetings and strategic advice has been given to both local and national organisations. The SDLAF has made representations concerning access at two public inquiries and undertaken site visits relating to improvement works on shared use paths.
Current Consultations
Terms of Reference
The South Downs Local Access Forum has Terms of Reference which sets out its purpose, membership, administration and voting procedures.
The South Downs Local Access Forum has also agreed its principles for aiming to reach consensus in making decisions about the advice it gives.
Governance at SDLAF Meetings – Consensus Aim
Further information
Local Access Forums were created by the Countryside and Rights of Way Act 2000. For information on the regulations that govern how they are set up and run, as well as government guidance on how they work and what they do, visit Natural England's Local Access Forums webpage.