Rare and unexpected species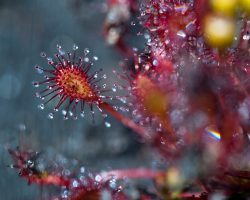 On visiting the South Downs you might spot some of our iconic species such as burnt orchid, round-headed rampion, otter, skylark, barn owl and brown trout.
You might even be lucky enough to spot some of our less well known residents such as the barbastelle bat, the chalk carpet moth and sundew (a carnivorous plant).
Wherever you choose to go in the National Park, stunning views are matched by plentiful opportunities for wildlife-watching.
You might spot a shy fallow deer grazing in a woodland glade, or sit in a sunny spot to watch dainty butterflies flitting across the flowers of your favourite chalk grassland site in midsummer.
Rare Species
Many of the species found in the National Park are rare and some, like the greater mouse-eared bat only live here.
The last known British colony disappeared in 1985, however, a single male was discovered in the National Park in 2002 and has been recorded at the same location every year since.
Rare species are often restricted to habitats which are also rare.
Thanks to conservation efforts of partners and volunteers across the National Park and sensitive land management, some species such as the Duke of Burgundy butterfly are showing signs of recovery.
Climate change is a double edged sword, while some species such as the silver-spotted skipper butterfly benefit by extending their distribution and the range of habitats they are able to utilise; it often has a negative effect on the rare habitats our wildlife depends on.
Invasive Pests
While you may enjoy the colourful blooms of rhododendron, invasive non-native species such as this are now regarded as the second greatest threat to global biodiversity after habitat loss and they are causing significant problems for a wide range of species and habitats across the National Park:
Water vole populations across the National Park have been devastated by American mink.
Himalayan balsam, Japanese knotweed and giant hogweed are spreading in the National Park, contributing to the decline of native wildlife and habitats.
These exuberant visitors are expensive and difficult to control – and in some cases, such as the signal crayfish, populations are almost impossible to eradicate once established.
However, we are working with a wide range of organisations and landowners to tackle this threat.
Unseen benefits of wildlife
As well as bringing joy to those who spot it while out enjoying the South Downs, our wildlife also has other unseen benefits or services on which we depend.
Insects pollinate many of our foodcrops and garden plants; trees act as carbon stores and provide woodfuel; wildlife such as fish, pheasants and deer are a source of food; and many wild animals control human pests such as mosquitoes.
So, protecting our wildlife not only benefits them but all of us as well.