Our work on the ground in 2017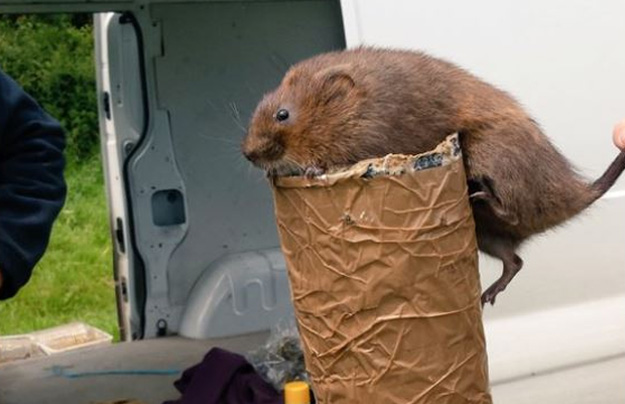 December 28, 2017
From meeting with farmers, offering training and support to local communities, leading walks, organising and training volunteers, controlling invasive species and supporting key species, South Downs National Park Rangers are out in the National Park every weekday and many weekends over the year.
Here are the highlights of our monthly highlights – just a tiny taste of what they, and the South Downs Volunteer Rangers, achieved in 2017: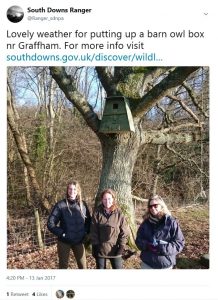 In January our volunteers spent 42 task days clearing scrub on chalk grassland and heathland on 30 different sites, with 8 different organisations including National Trust, Natural England, Sussex Wildlife Trust, Lewes District Council, Eastbourne Borough Council and Pyecombe Golf Course. They also carried out 16 days of coppicing on 8 sites across the National Park – including coppicing to support the pearl bordered fritillary at Church Copse and restore ancient semi-natural woodland in West Sussex. They also put up barn owl boxes…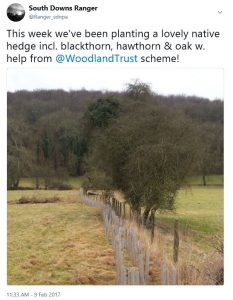 In February our rangers and volunteers started surveying open access land for accessibility and condition of signs/stiles and gates in the Wealden Heath area and improved public access at Beggars Bush, Sompting. They replaced a kissing gate and two stiles with three kissing gates to improve access, in partnership with Sussex Wildlife Trust and Glynde Estate. They also laid a stretch of mixed hedgerow at Lower Lodge Farm in Fernhurst to rejuvenate an ancient hedge line and further hedges at Petworth (300m) Binsted (150m) and Folkington.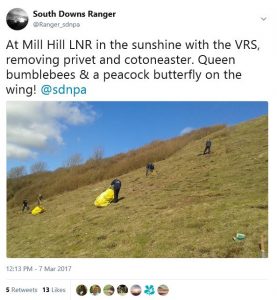 In March their work included restoring chalk grassland at Mill Hill Local Nature Reserve. They also carried out work on South Downs Way including repairing all signs at Seven Sisters, the steps and interpretation panel at the Eastbourne end of the trail and installing five new finger posts near Amberley. They worked with the South Pond Group in Midhurst to install bat and bird boxes and start water quality testing and trained 11 volunteers to carry out riverfly monitoring on the River Meon, Rother and Hamble.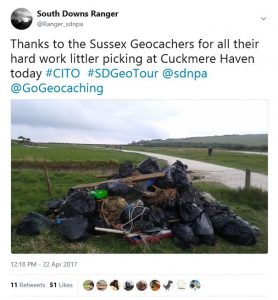 In April they met landowners on the River Meon to discuss recommendations from the completed habitat suitability survey, so they can enhance and improve their section of river; improved access for visitors by installing hunt gates at Beddingham and the Long Man of Wilmington and replacing a stile at Kingston and constructed nine barn owl boxes and six little owl boxes for a new project and for replacement and refurbishment in Selborne area. They also supported a very successful 'Cash In Trash Out' litter picking event at Cuckmere Haven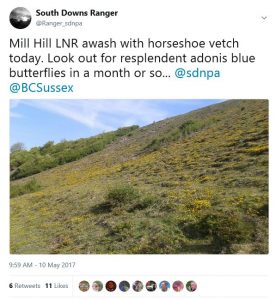 In May they carried out farmland bird surveys and surveyed for rare Duke of Burgundy butterflies near Winchester, where they found evidence of egg-laying in areas cleared the previous winter and kidney vetch and horseshoe vetch, both food for blue butterflies. The photo shows lots of horseshoe vetch at the other end of the National Park in East Sussex. They spent a week restoring the historic flint wall at Stanmer Park. They also removed invasive rhododendron on Stedham Common, started tackling invasive Himalayan balsam along Rother near Chithurst and scythed bracken from a heathland site in Hammer Wood, Chithurst.
In June they surveyed for lapwing in partnership with the RSPB and found 16 lapwing chicks in 4 families on one survey site. They released 198 water voles to the upper reaches of the River Meon (four local schools came along to help – feeding the water voles in their release pens and adapting the pens so that the animals can self-release); and started ringing first barn owl chicks of the year and ringed two boxes of kestrel chicks.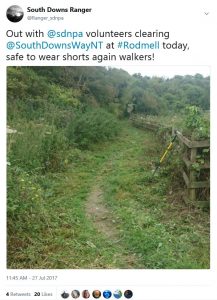 In July they organised more than 40 teenagers on their National Citizens Service scheme to pull invasive Himalayan balsam and other tasks; and worked with the East Meon Cub Group planting sedges, water mint, brooklime, water forget-me-not and marsh marigold into stream berms. They also trained staff and volunteers in water safety – vital for river fly monitoring and water vole surveys.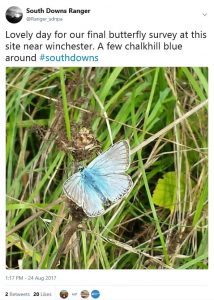 In August they released 253 water voles into the upper reaches of the River Meon working with five landowners over six sites – completing their reintroduction from source to sea along the river. Local children joined us to help feed and check the water voles before release. They assessed Scheduled Monuments At Risk. Improvements to some mean they were able to change status to 'vulnerable' rather than 'at risk' – for example work to restore Devil's Dyke Hillfort Scheduled Monument means that it is now in a good condition with vegetation cleared and raked off. Butterfly surveys continued.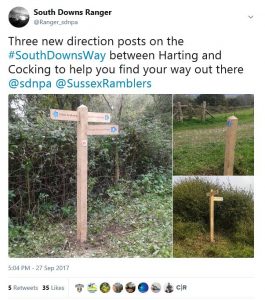 In September they talked to 250 year 6-7 pupils about farming and conservation at Avington and Bereleigh Estate. They also carried out seed harvesting at a local chalk grassland site then spread the cowslip, yellow rattle and scabious seed at a nearby site which we are managing with the landowner; led guided walks for Arundel festival and Steyning food festival; led 40 people on two Heart Smart walks and attended a disabled ramble event at Kingley Vale. Meanwhile more finger posts needed replacing on the South Downs Way…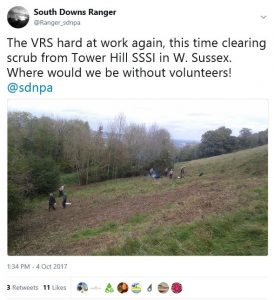 In October they completed ten days work at Binswood, managing the site's rides with the Woodland Trust; began enhancement work on Petersfield's greenspaces in partnership with Petersfield Town Council. Winter scrub management started across many heathland sites and at Long Furlong to open up chalk grassland habitat and Medley Bottom and Stoke Bottom SSSI; Tower Hill SSSI; SSSI chalk grassland at Willingdon down and Anchor Bottom; and Local Wildlife Site at Mile Oak Farm.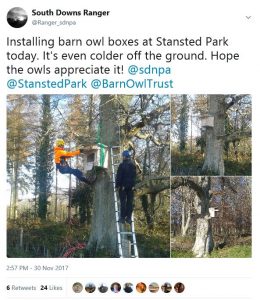 In November they completed habitat management work in the River Meon at East Meon with the Wild Trout Trust, including managing vegetation planted during previous river restoration work; planted hazel at a local coppiced woodland which is managed for the benefit of wildlife; helped to clear heathland in preparation for the reintroduction of the field cricket at RSPB Pulborough Brooks and and installed nine new interpretation panels at Tide Mills. Cold weather didn't stop installation of new barn owl boxes.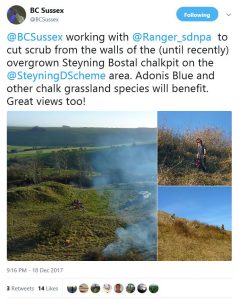 In December they carried out harvest mouse surveys with the local community around Selborne and found mice are present in areas previously unknown to be occupied and carried out scrub clearance for butterflies at important chalk downland sites near Winchester to maintain a stronghold habitat for the rare Duke of Burgundy butterfly; at Noar Hill which will enhance habitat for both the Duke of Burgundy and brown hairstreak; and with Butterfly Conservation Sussex at Steyning Bostal chalkpit which will benefit butterflies such as Adonis blue.
Quick Links
Learn, Enjoy & Care For
National Park Authority
Planning