VRS Committee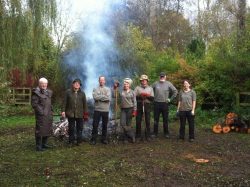 The Volunteer Ranger Service (VRS) Committee represents the interests of all members of the South Downs VRS to the South Downs National Park Authority (SDNPA). Made up of Volunteer Rangers from across the National Park, it meets quarterly with the SDNPA staff who work most closely with the VRS, bringing issues for discussion and providing advice on the development of volunteering policy and priorities as they relate to the VRS.
The group organises the annual 'get together' and Annual General Meeting for Volunteer Rangers. It organises educational courses, social and other events for members from time to time. It also manages the financial assets of the VRS, seeking to generate income and enabling and supporting projects which benefit the National Park.
The VRS Committee operates in accordance with the VRS Constitution.