Wild Families – Snakehunt!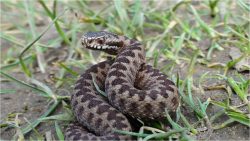 13 August 2017
10.30 to 11.30
Booking
No booking required. Sign up on the day - max. 30 people.
Event Cost
£1.50 per person. Normal nature trail entry fees will also apply (£5 adults/£2 children/free for RSPB members)
Details
If the weather is good, we'll be running a ramble going off in search of some incredible reptiles. The walk is likely to last around an hour or so. Sensible shoes and long trousers are recommended.
Location Details
Location
RSPB Pulborough Brooks
Postcode
RH20 2EL
Organiser Details
Organiser's Name
RSPB Pulborough Brooks
Organiser's Website
http://www.rspb.org.uk/pulboroughbrooks
Organiser's Email
Organiser's Telephone