Places to Eat
Enjoying local food…
Geocaching is hungry work… stop off in one of these great local businesses, try local food and refresh your energy ready to continue your adventures. Claim a bonus point per person to count towards your souvenir Geocoin when you order food or drinks. You can visit each business as many times as you like while out on your geocaching adventures.

West Sussex
The Village Shop and Tea Room Limited
Nestled in the heart of the West Sussex Downland, part of the South Downs National Park, we are a small shop and tea room frequented as a shopping, meeting and eating place popular with locals, walkers, cyclists, artists and gazers. We sell a wide range of local produce and essentials and are fully accessible to wheelchair users. The Tearoom offers fresh coffee, tea and a lovely selection of cakes and slices as well as light meals, which may be enjoyed in the Tea Room or on our outside tables.
Fantastic, friendly, welcoming staff await your visit. No minimum on card purchases.
Opening Days and Times: Monday to Saturday 8am-5:30pm Sunday 8am-4:30pm in the Winter and 5:30pm in the Summer (The Tea Room closes an hour before the shop)
The Square, Compton, Chichester, West Sussex, PO18 9HA
http://www.southdowns-tearoom.co.uk
https://www.facebook.com/shopandteacompton
Queen Elizabeth Country Park Cafe
Come and relax at our café and enjoy home-made, locally sourced food, nutritious meals, snacks and cakes and a competitively priced selection of teas, coffee and hot chocolate.
Opening Days and Times: Summer, Monday to Friday 10am-5:30pm, Saturday to Sunday 9am-5:30pm. Winter, Monday to Friday 10am-4:30pm in the Saturday to Sunday 9am-4:30pm
Near Petersfield, Gravel Hill, PO8 0QE
www.hants.gov.uk/thingstodo/countryparks/qecp/explore/cafe
East Sussex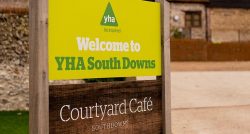 The Courtyard Café at YHA South Downs
The Courtyard Cafe provides a relaxed atmosphere for you to unwind after a long walk or to catch up with friends – it's open to the general public as well as guests all year round.  From homemade cakes to coffees to hot meals, this cafe has it all.
Opening Times: 10am-4pm every day
Beddingham, Lewes, East Sussex, BN8 6JS
http://www.yha.org.uk/hostel/south-downs
The John Harvey Tavern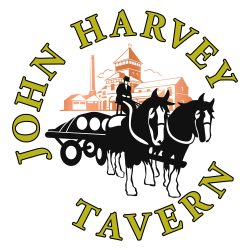 A traditional pub with a rustic feel located at the heart of the historic town of Lewes, next to the River Ouse. The John  Harvey Tavern is the Brewery Tap for Harvey's Brewery, which stands proudly opposite the pub, and serves an unrivalled selection of their signature brews. Stop by for locally sourced fare from sandwiches to Sunday roasts.
Opening Times: Monday-Saturday 11am- 11 pm Sunday 12pm- 9pm
Food Served: Monday-Saturday 12pm-3pm/ 6pm-9:30pm Sunday 12pm-4:30pm
Bear Yard, Cliffe High Street, Lewes, East Sussex, BN7 2AN
http://www.johnharveytavern.co.uk
https://www.facebook.com/johnharveytavern
https://twitter.com/JohnHarveyPub
https://www.instagram.com/johnharveypub
Businesses – How to sign up…
Are you a business in the South Downs that would like to join the GeoTour?
Drop us an email to find out more at geocaching@southdowns.gov.uk