Geocaching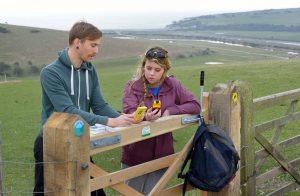 Geocaching is a real-world treasure hunt that combines being outdoors, exercise and technology. We have created the South Downs GeoTour (GT58) to help you explore the National Park through geocaching.
Anyone can play using the free Geocaching smartphone app, GPS or paper map, you seek out secret caches hidden by other players – there are now more than two million stashed around the world. Sign up for a free account at geocaching.com and start playing today.
A geocacher hides a geocache (never buried), lists it on geocaching.com and challenges you to find it using the Geocaching app or a GPS device.
The geocache will contain a logbook for finders to sign. Once you've found it you log your experience online at geocaching.com or on a Geocaching App.
Sometimes people will also leave small trinkets for trade in the cache. If you take something you should always replace it with something of equal or greater value.
You then return the geocache to the spot where you found it, ready for the next player to find.
Watch this short film to find out more…
Visit the geocaching website to get started.