Dark Night Skies
In May 2016 the South Downs National Park became the world's newest International Dark Sky Reserve (IDSR). We think our star-studded skies overhead are as valuable as our beautiful rolling landscapes and, with properly dark skies in the South East of England under threat, this is a statement that the skies of the South Downs are worth protecting. We celebrate this designation every year at our Dark Skies Festival with two weeks of cosmic fun including star parties, talks and family activities.
Use the map below to find your nearest dark skies.
How to embrace the darkness
Here are some top tips to help you make the most of stargazing in the South Downs:
Check the phase of the moon to plan your trip – stargazing is best before a full moon
Take a blanket or mat to lie on
Wrap up warm
Take some snacks and a hot drink
Take a compass or use the one on your smart phone
Download a star gazing app to help you identify constellations and stars
Allow time for your eyes to adjust – this takes around 20 minutes so turn off any lights, torches and put your mobile phone away
Star Party Pack for schools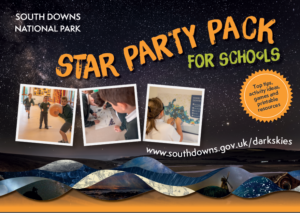 Help your school community learn about, love and look after our dark night skies by hosting your very own Star Party.
A star party can be a standalone activity, used during a topic on space or when finding out what makes your local area special.
We've put together a Star Party pack to help get you started.
The Star Party Pack includes:
top tips
activity ideas
games
and; printable resources to help you host your own star party!
You can download the pack here.
What does International Dark Sky Reserve status mean?
The South Downs National Park is the second IDSR in England and one of only 16 in the world. With 2.2 million people living within 10km of the National Park our reserve is one of the most accessible in the world.
There are approximately 2,700 streetlights in the National Park. Local lighting authorities are gradually replacing these over time to comply with Dark Sky standards.
More than 25,000 individual measurements were taken to map the night skies quality across the South Downs. 66 per cent of the National Park has Bronze Level Skies.
In the future the South Downs National Park Authority will use its role as a planning authority to protect the dark skies above the National Park as well as the landscape on the ground. Draft policies for the South Downs National Park's Local Plan include specific lighting requirements that developers will need to meet.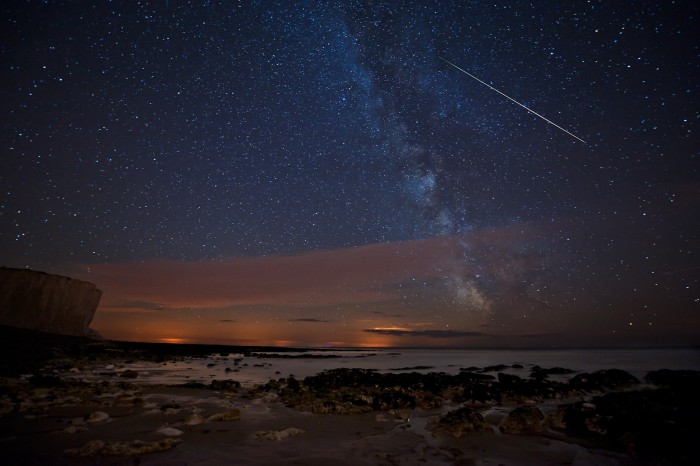 Can your business benefit from being in a Dark Sky Reserve?
If you would like to find out how your business can make the most of being in or near an International Dark Sky Reserve please visit communicating-south-downs/dark-night-skies
Nocturnal Wildlife in Your Garden
Dark night skies are not only good for star-gazing, they help nocturnal wildlife such as moths and bats thrive. Here are a few tips on how you can encourage more nocturnal wildlife into your garden:
Turn off lights when not needed
Buy lamps under 500 lumens
Plant paler flowers to attract night-time insects
Install a batbox
Top tips for photographing night skies:
Use a tripod.
With the widest F-Stop available; experiment with ISO settings between 400–1600.
Use a 10 second delay (self-timer) and set the exposure to around 25–30 seconds ­– t­he delay will eliminate button-press shake.
Try briefly illuminating landscape features in the foreground by quickly flashing a torch.
Beat the cold. Wrap up warm and take spare batteries!
Download our leaflet about the South Downs International Dark Skies Reserve here.