Work to shore up fire-damaged buildings in Midhurst enters final phases
June 15, 2023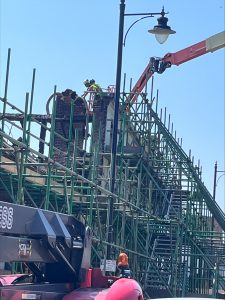 This week work has focused on the three large chimneys of the listed buildings which were left at serious risk of uncontrolled collapse after the fire. All three chimneys have now been successfully taken down to a safe level.
The seven-week programme (from 15 May) is well on track. The next phase of the shoring up will be to complete the internal scaffolding and fixings. Once this is completed, final, legally required structural safety inspections will need to be carried out and the hoarding around the scaffolding built.
Once the hoarding is completed, the National Park Authority will hand over to West Sussex County Council to carry out the necessary road safety and traffic management work so that the road can be reopened in both directions.
We would like to thank the people of  Midhurst who have rallied to support our contractors over the last week. Together we have been working hard to ensure that Midhurst can reopen as soon as possible.
We have produced an FAQs specifically around the shoring up work and this can be found at www.southdowns.gov.uk/midhurst-fire-updates/
The multi-agency recovery group has also created a more detailed FAQs, prepared by Chichester District Council which includes information about business support and highways issues.
The FAQs can be found here: www.chichester.gov.uk/article/37648/Midhurst-fire-Frequently-asked-questions