Heritage
Heathland is a man-made habitat, created by our ancestors thousands of years ago.
The involvement of humans has been vital in developing the unique characteristics of heathlands and the species that depend on them.
Between October 2018 and 2019  – 17 cultural heritage volunteers conducted extensive research to uncover the fascinating histories of eight heathland sites in the South Downs National Park.
Many of the volunteers were new to oral history recording, but following training provided by the project, they interviewed 34 local people who lived or worked on heathland sites.
The volunteers scoured historical archives for interesting heathland facts and tales, uncovering the experiences of a city boy evacuated to the heathlands of Graffham in World War Two and the rebellion of starving farm workers in Selbourne in 1830.
In 2018 the volunteers rewrote their research into a format suitable for children, published as "The Fish, the Goatsucker and the Highwayman' storybook, for which they were highly commended at the National Park UK volunteer awards, 2019.
A copy of the book has been sent to 40 primary schools and five children's libraries in the project area Petersfield, Storrington, Bordon, Alton and Midhurst.
Link to 'The Fish, the Goatsucker and the Highwayman' Storybook
You can visit these libraries to take home the book for free or it is also available to buy from the South Downs Centre in Midhurst for £7.99. 
The project also ran a series of storytelling events at libraries across the project area to share the stories of our heaths.
The volunteers' research was used as inspiration for a series of sculptures by the award-winning artist Graeme Mitchenson, which will form an upcoming sculpture trail linking seven heathland sites in the National Park.
Currently our heritage volunteers are working on a series of 'heritage routes', short accessible walks on heathlands that highlight points of historical interest, such as the foxholes and trenches on Wiggonholt common which were dug by Canadian troops stationed in Pulborough during World War II.
The work of the cultural heritage volunteers has been extremely important in capturing and preserving the stories of local community connections with heaths in the South Downs National Park. They have created a valuable archive of historical articles, photos and maps which will be accessible to future generations.
"As a cultural heritage volunteer on the National Park's Heathlands Reunited project, I learned so much about our local heathland through field trips, archive research and oral history. It was a pleasure to volunteer. What a wonderful opportunity to volunteer and be guided into turning our research into stories for children – and be published!" Elaine Ireland.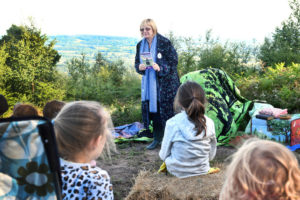 "Working as a Volunteer on the Heathlands Reunited Oral Histories project provided me with a way to learn new skills and meet interesting people. I enjoyed meeting and working with the other volunteers and discovering the work of the SDNP. As a professional oral storyteller knowledge gained regarding Heathlands has impacted on how I now tell some details of traditional tales" Janet Goring Oral History interviewer 2018