South Downs Centre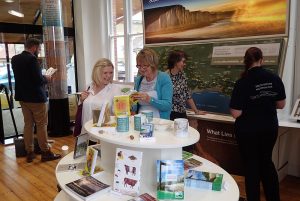 As well as being a new home for the National Park Authority, the South Downs Centre in Midhurst is a community hub, an exhibition about the National Park and a green conference centre. Local visitor information is provided as well as leaflets providing walking routes throughout the Park.
South Downs Centre
North Street
Midhurst
West Sussex
GU29 9DH
Directions to the South Downs Centre
Opening hours:
Monday to Thursday:                  09:00-17:00
Friday:                                       09:00-16:30
Saturday & Bank Holidays*:         09:00-13:00
(*open from Easter to end of October only)
Cycle facilities
The South Downs Centre has provision for 20 visitor bicycles, secured to hoops at the front of the Memorial Hall (the building at the back of the car park, facing you as you enter).  A 'Fix It' bike repair unit is also installed here which contains all the tools necessary for members of the public to perform basic repairs.
Electric Car Charging facilities
The South Downs Centre has a rapid charger which is linked to the Charge Your Car (CYC) network. There are two charging points in the main car park which is accessible 24 hours a day.
About the Centre
Based in the north wing of Capron House and the Memorial Hall in Midhurst, the South Downs Centre is helping to preserve two Grade II listed buildings and restore them to the highest possible level of sustainability. This has been a complex undertaking as both buildings were in need of significant repair and upgrading. We are very pleased that we have been able to reach our ambitious target of a BREEAM accreditation of 'Excellent' at design stage and our goal that the South Downs Centre should become a beacon of sustainability in the National Park.
South Downs National Park Exhibition
Designed to be a jumping off point for exploring the National Park, the exhibition introduces visitors to the South Downs' landscapes, geology, produce and heritage. There's a small interactive area where children can discover more about our wildlife and 'brass-rub' their own vision for the National Park.