What's it really like being a ranger for the South Downs National Park and does the reality match the perception?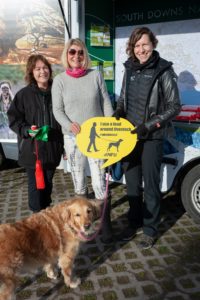 We caught up with  Phillippa Morrison-Price, Lead Ranger for the Eastern Downs, to find out more.
What's it like being a ranger for the South Downs National Park?
I love it!  The people, the landscape and the wildlife all make it an amazing place to live and work.
Describe your typical day
There's no such thing!  One day I might be leading the volunteers, clearing scrub off an important chalk grassland site, on another I may be putting a project proposal together for funding, checking on some contractor work or carrying out a dragonfly survey.  It's really varied.
What made you want to be a ranger?
I love being outdoors, I love wildlife, and I love practical work – it's a dream job!
Do you have a favourite place in the National Park?
The view from Ditchling Beacon across the Weald is one of the best!
The National Park is teeming with biodiversity. What's your favourite species and why?
I don't have one – there are too many to choose from.  I love the variety of butterflies – from woodland specialists to chalk grassland species.  I also love the endless song of the skylark throughout the summer…the list goes on!
Does people's perception of what a ranger does live up to the reality?
There are certainly fewer horses called Trigger!
What challenges do you think the National Park faces?
Climate change will be one of the biggest challenges moving forward, as well as increasing population.
Describe your perfect day in the National Park.
If I could fit all of these in, that would be perfect! A 20 mile walk anywhere in the east, kayaking up the River Ouse, a pub lunch…and then camping out under the stars.