From the South Downs to Canada: the story of a geocache treasure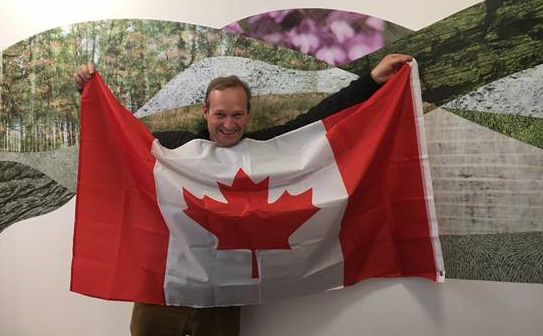 April 6, 2018
A Canadian flag placed in a Geocache on South Downs heathland last May has travelled 14,655km to arrive 'home' to Alberta Canada. Along the way the flag has travelled through southern England, up to Manchester, across to the Netherlands and Germany before making it to Nova Scotia in Canada and then on to Alberta.
Student teachers from Chichester University placed the flag in a geocache on Stanley Common in West Sussex on 15 May 2017. The National Park Authority's Education Team worked with the teachers as part of a project looking at how geocaching could be used in the classroom (look out for resources coming soon to the South Downs Learning Zone).
The flag was chosen because the common was home to a Canadian Military Ground during the First and Second World Wars. The bare ground created by military manoeuvres and test explosions made an ideal habitat for the insects that do well on warm, sandy soils.
Geocaching is a real-world treasure hunt that combines being outdoors, exercise and technology. Anyone can play, using the Geocaching smartphone app, GPS or a paper map, to seek out secret caches hidden by other players.
"There are now more than 2 million geocaches stashed around the world and thousands in the National Park," says National Park Education Officer Jonathan Dean. "This includes more than 30 caches that make up the South Downs GeoTour, designed to reveal hidden gems in the National Park along the way. If you find a 'trackable' treasure you log your discovery online and then move it to a different cache. This makes them tricky to find, and that bit more desirable, because they're constantly on the move!"


Since its release the flag has been logged 518 times on its 14,655km journey.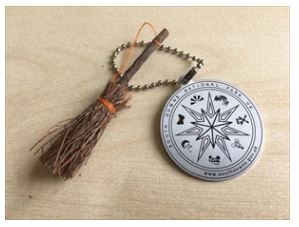 "The Canadian flag may now be too far away for a South Downs cacher but there are two other treasures placed by the teachers still within reach," continues Jonathan. "You might find a tiny birch broom, currently hidden in a cache near Midhurst, and there's a bundle of heather which was last recorded near Southampton. We're looking forward to seeing where they end up!"
The three 'trackable' treasures were made possible through the Heathlands Reunited project.
More information about Geocaching in the South Downs
There are thousands of caches hidden across the South Downs, simply download the geocaching app and get hunting. For an extra challenge and the chance to earn a souvenir geocoin, try and complete the South Downs GeoTour.
To find a Geocache trackable you need to set up an account on the Geocaching website
Quick Links
Learn, Enjoy & Care For
National Park Authority
Planning