Go South Downs
Give your car a rest! Start your adventure with the journey.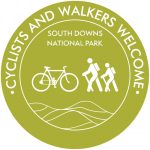 Go South Downs will help you plan every element of your visit or holiday, from how to get to your destination by public transport, where to stay, where to eat and what activities you can enjoy while you're here.
Use the Cyclists & Walkers Welcome directory to plan where you can expect a warm welcome.
Remember to look out for the Cyclists & Walkers Welcome logo displayed at attractions, places to stay and friendly spots to stop off for a refreshing drink and local food in and around Lewes, Petersfield and West Sussex.
If you're a local businesses in the South Downs that welcomes cyclists and walkers, join the Cyclists and Walkers Welcome Scheme and use your location in the National Park to add value to your business.