Our Water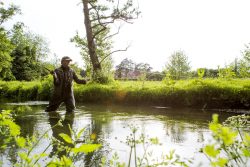 Fly fishermen make the pilgrimage from far and wide to the Hampshire rivers Itchen and Meon, seeking out some of the finest chalk streams in the world. They come here for the superlative wild trout fishing. They might also spot a kingfisher on a branch, or a water vole among the reeds. As they admire the clarity of the water flowing downstream, few realise that 90 per cent of it is hidden underground.
This is because of the porous chalk through which these rivers flow and through which water has been draining for millennia. It's why there are boreholes and wells beneath our local breweries, with the naturally filtered water they extract making up 90 per cent of every pint of Triple FFF or Long Man Brewery Beer. It's why springline villages such as Poynings and Fulking were sited to make the most of these pure springs spouting out from the side of the scarp.
In total, 1.2 million people in and around the National Park's borders drink and use water filtered through the chalk every single day. The proximity of so many people and their conflicting needs brings with it several pressures, with rural and urban pollution contaminating the water with nutrients and pesticides, oils and solvents.
We're working with communities across the National Park to improve the quality of and access to the water we all rely on. We rightly celebrate the return of otters and water voles. Raise a glass to the quality of our beer. As we do so, it's worth remembering that for the hundreds and thousands of us that live at the base of the South Downs, we all live downstream.