We See You Now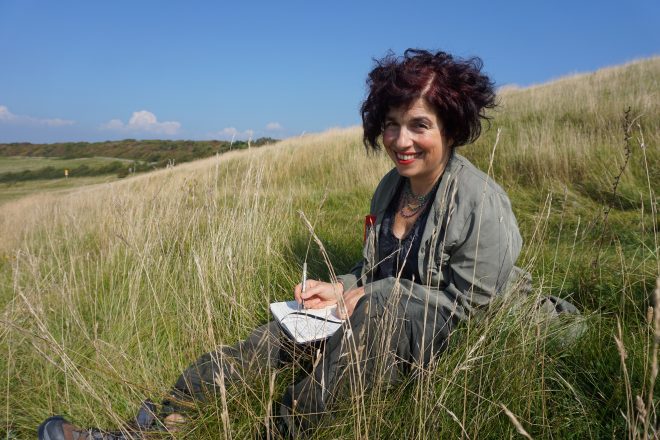 "We See You Now" is an inspirational project exploring diverse voices and connections to the beautiful South Downs landscape.
The project is being led by writer and artist Alinah Azadeh, who has been commissioned by the South Downs National Park Authority as the first Writer-in-Residence for Seven Sisters Country Park and the wider Sussex Heritage Coast.

"We See You Now" is a two-year project running until the end of 2022 and is being supported by Arts Council England.
At the heart of the project is a love for this iconic landscape and the desire to share the voices, reflections and experiences of Black, Asian & ethnically diverse writers, people of colour, people on the move and those who have been absent from the recorded history of the area due to class, gender, sexuality, disability, socio-economic or mental health barriers.
You can listen to prologue story that inspired the project here.
The project is supported by funding from Arts Council England as well as the National Park Authority, with partner support from Writing our Legacy, New Writing South, ONCA and Enthum Foundation.
A key strand of the project is a series of National Park-led audio podcasts called "The Colour of Chalk" – with ethnically-diverse writers sharing their reflections on the landscape and a new podcast released every month.
The podcasts will be available to listen to on this page, which will be updated over the course of the project.
Other exciting elements of the project include:
A new set of audiowalk stories & poetry launched at a live event next year across the landscape & online written by Alinah and writers/poets of colour from the writer's community she has worked with through the pandemic.

A series of outdoor writers' retreats and workshops, building the creative community and inspiring participants from both ethnically-diverse & wider audiences to contribute to the project programme. This will include a specific strand for young people.

A simple downloadable walking and writing 'guide' for anyone who wants to engage with and contribute to the project next year.

An anthology for the area, out in late 2022

Social media takeovers by Alinah and some of the writers.
Read the launch press release here.
Updates on the project will be available on this page and social media by searching for the hashtags #WeSeeYouNow and #SevenSistersCountryPark.
Podcasts