We See You Now: Seven Sisters writer-in-residence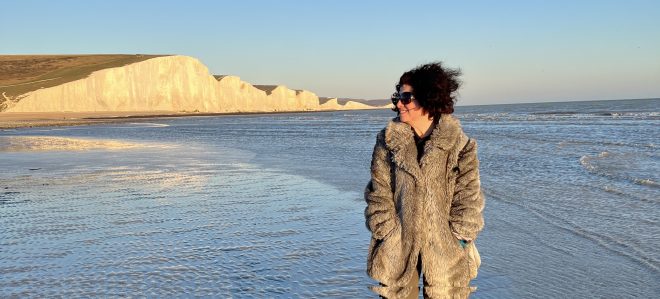 Alinah Azadeh is a writer, artist, cultural activist and inaugural Writer-in-Residence at Seven Sisters Country Park and the Sussex Heritage Coast.
She is also creative lead on We See You Now (WSYN) a landscape and literature project dedicated to evoking trans-global perspectives on the heritage and connections of this iconic coastal area, through new stories and poetry by Alinah and a cohort of writer, poets and performers.
For an instant flavour of the project and its setting, listen to The Colour of Chalk, a podcast series featuring outdoor readings and walk and talk 'in conversation' pieces  between Alinah and invited writers and activists. Episodes 1-4 available now.
Since 2020, Alinah/We See You Now has hosted 35 emerging and established writers of Black, Asian, Middle-Eastern, Latino and mixed global heritage to come into direct, collective experience of the landscape and each other, through writing and walking retreats, day events and an ongoing writer group. Their creative journey included a major retreat with renowned novelist Leone Ross and an immersion into speculative fiction.
After 2 years of research, retreats, workshops and development, the production of a new collection of 15 recorded spoken word performances by Alinah and a cluster of poets /writers she is working with as lead writer, is in process.
"This will launch in late Spring 2023 on listening posts across the Sussex Heritage Coast landscape and through associated cultural and digital channels and events, with a view to touring next Summer. A short film on the project is also being produced with Transition Films, supported by SDNPA."
The works to be published and recorded are all by women or non-binary writers and use the rich metaphors and immersive experience of this spectacular and shifting coastline to explore personal migration stories, belonging, legacies of empire, climate change and justice, biodiversity and renewal. Considering issues of access and inclusion and equity, they also seek to imagine together more equitable futures through their work.
Public-facing project highlights this year have included live readings, presentations, writing and walking workshops led or co-led by Alinah with writers from the WSYN cohort took place over the summer at; SDNPA's Renature Festival at Seven Sisters Country Park, Charleston's Festival of the Garden, Common Threads International Conference at University of Brighton.
Alinah Azadeh and We See You Now are funded by South Downs National Park Authority and Arts Council England through a major project grant 2021-22. Writer Retreats are produced by Writing our Legacy. Partner support also includes New Writing South and ONCA.
Alinah's Work
We See You Now

 

(Prologue): The original audio story by Alinah Azadeh inspired by a walk from Birling Gap towards Cuckmere, which led to the We See You Now project.
The Hidden Valley: Performed as part of BBC 3 The Essay 'Into the Wild' season, reflecting a walk from the edge of the South Downs to the sea.
The Colour of Chalk: A Podcast series featuring walk and talk 'in conversation' pieces with writers, activists and ecologists.
Project Partners and Supporters
Writing Our Legacy CIC: Established in 2012, Writing Our Legacy is an arts and heritage organisation that enables Black, Asian and ethnically diverse people from the south east to tell their story through writing and the creative arts.
New Writing South

 

: A Brighton-based, key non-profit organisation for writers living and working in South-East England, it supports and encourages new, emerging and established writers from diverse communities. Alinah has been mentored and supported by them for the last 4 years.
Podcasts