Alinah Azadeh: Seven Sisters writer-in-residence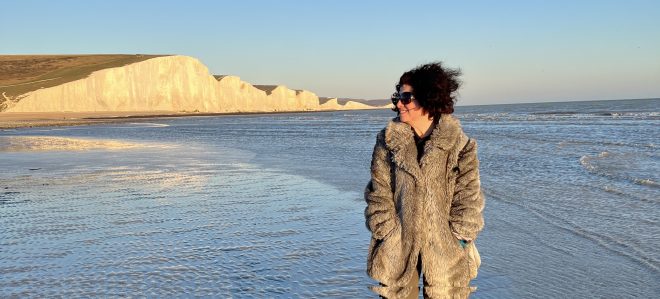 Alinah Azadeh is a writer, artist, cultural activist and inaugural Writer-in-Residence at Seven Sisters Country Park and the Sussex Heritage Coast until October 2023.
She is also creative lead on We See You Now (2019-22) a landscape and literature project & programme dedicated to evoking trans-global perspectives on the heritage and connections of this iconic coastal area, through new stories and poetry by Alinah and a cohort of writers, poets and performers of colour.
This year's full event programme connected to Alinah's residency will be announced in May, but you can  already join her and guests as part of
Brighton Festival 2023 – Friday 26 May
An immersive evening of readings, discussion, song, sound and video, inspired by the iconic and shifting coastal landscapes of the Sussex coast at Brighton Festival.
This new body of work by writers of colour from the We See You Now project, interweaves stories of personal migration, legacies of empire, climate and cultural justice, joy, rest, re-imagining and renewal.
The event will also feature live or recorded work by Akila Richards, Dulani Kulasinghe, Georgina Parke, Georgina Aboud, Jenny Arach, Joyoti Grech Cato, Oluwafemi Hughes and Razia Aziz.
Experience the landscape for yourself through the writers' eyes and ears. Take the 12X Bus from Brighton to Seven Sisters Country Park Visitor Centre to pick up a walking guide-or make the journey online.
Co-presented in partnership with Attenborough Centre for the Creative Arts.
Get your tickets through the Brighton Festival website.
Backgroun – From 2020-22, Alinah/SDNPA hosted emerging and established writers of Black, Asian, Middle-Eastern, Latino and mixed global heritage to come into direct, collective experience of the landscape and each other, through writing and walking retreats produced by Writing Our Legacy, day events and an ongoing writer group. Their creative journey included a major retreat with renowned novelist Leone Ross and an immersion into speculative fiction.
Using the rich metaphors and immersive experience of this spectacular and shifting coastline to explore personal migration stories, belonging, legacies of empire, climate change and justice, biodiversity and renewal. Considering issues of access and inclusion and equity, they also sought to imagine together more equitable futures through their work. Public-facing project highlights last year  included live readings, presentations, writing and walking workshops led or co-led by Alinah with writers from the WSYN cohort at Renature Festival at Seven Sisters Country Park, Charleston's Festival of the Garden and Common Threads International Conference at University of Brighton.
Alinah's Work
The Colour of Chalk: Alinah's Podcast series featuring walk and talk 'in conversation' pieces with writers, activists and ecologists.
Watch If You Can Imagine, a film poem written and performed by commissioned for the Seaford Head Archeology project
The Hidden Valley: Performed as part of BBC 3 The Essay 'Into the Wild' season, reflecting a walk from the edge of the South Downs to the sea.
Alinah's artist website: www.alinahazadeh.com and her soundcloud
Alinah is also a Changing Chalk Associate Artist or Writing Our Legacy /The National Trust.
Podcasts