Way in a Day 2019 – Friday 21 June
The health of both the South Downs Way National Trail and the National Park team are getting a boost on June 21 as staff, Members and volunteers cross its 100-mile length within a day – raising funds and awareness for the #MendOurWay campaign to fix broken sections of this much-loved trail.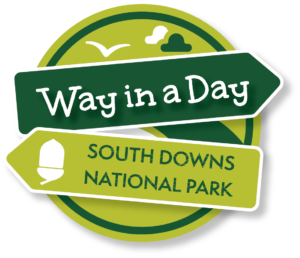 Following on from the success of this pilot initiative last year, we are now inviting the public to join South Downs National Park Authority (SDNPA) staff on 4 of the planned 16 sections of the trail.
These are all walks and have been chosen for their accessibility and sustainable transport links. Each of these will have SDNPA staff on hand to help guide participants and provide information about the South Downs Way.
The starting points of the walks will be manned from 9am to 2pm.
Members of the public joining staff on any of these legs will need to ensure they are of reasonable fitness and to bring with themselves any and all supplies and equipment, including medication, water and refreshments.
Every person who takes part is being asked to make a minimum donation of £2. All funds will go towards repairing sections of the trail for the enjoyment of visitors. The donation can be given to the member of staff manning the starting point of the walk.
Participants from the South Downs National Park will also be picking up litter they find along the way.
If you are taking part, please share pictures of your walk online using the hashtags #WayInADay and #SouthDowns.
To help us maintain and preserve the South Downs Way, you can make a one-off donation here.
Public walks – key information
Below are details for each of the public sections for Way in a Day. Each section will be manned by a member of the South Downs National Park Authority from 9am to 2pm.
Anyone joining the walks can plan their journey door-to-door, (and see relevant maps and timetables, including the walking route to the bus stops), at www.travelinesoutheast.org.uk
Discovery Ticket
Participants are encouraged to make use of the Discovery Bus Ticket, which covers the majority of bus operators in the area.
For this day only there will be a special discount, with adult tickets available for £7 and the family tickets available for just £10.
For more details see www.southdowns.gov.uk/enjoy/plan-a-visit/getting-around/discovery-ticket/
Queen Elizabeth Country Park to Cocking Car Park
Length of walk: 13 miles
Transport to section start: From Petersfield or Havant via Stagecoach Bus 37, alight at Clanfield Queen Elizabeth Country Park bus stop on A3 (ask driver)
Transport from section end: Return to Midhurst or Chichester via Bus 60 from Cocking. Onward connections via public transport from Chichester or Midhurst
Littleton Farm to Cocking Hill
Length of walk: 5 miles
Transport to section start:  From Chichester Bus 99 to Littleton Farm, or alternatively Bus 99 from Petworth
Transport from section end: Return to Chichester via Bus 60 (half hourly) or to Midhurst via Bus 60 and Bus 1 to Petworth
The Downland Church of the Transfiguration, Pyecombe Village to Housedean Farm (A27 Crossing)
Length of walk: 9 miles
Transport to section start: From Brighton on Bus 270/271/272 and alight at Pyecombe Garage
Transport from section end: Return to Brighton via bus 28/29/29B from the A27 Crossing
Eastbourne (Dukes Drive) to Exceat (Seven Sisters Country Park)
Length of walk: 7.5 miles
Transport to section start: This section starts at the start/end point of the South Downs Way on the corner of Dukes Drive and Foyle Way, Eastbourne. Take Bus 3A from Eastbourne Centre and alight at the stop for Meads, near the foot of Beachy Head
Transport from section end: Return to Eastbourne town centre via Bus 12/12X from Seven Sisters Country Park