The best picnic spots in the South Downs
June 21, 2022
You may not know it but July is National Picnic Month.
With so many endearing beauty spots across the National Park, you could have your pick (no pun intended) of anywhere to settle down and enjoy a lovely lunch.
In honour of this quintessentially English month of celebration, we asked some of our sustainable transport partners from across Hampshire and Sussex to suggest their favoured spot for a walk and picnic.
With the South Downs Discovery Ticket, getting across the National Park by bus couldn't be easier.
1. Cheesefoot Head, Hampshire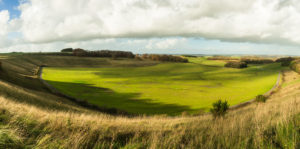 Situated just outside of Winchester in Hampshire, Cheesefoot Head is a natural amphitheater. A stunning viewpoint, it offers views out towards Butser Hill, the New Forest and the Isle of Wight.
The sloping walls of the amphitheater is comprised of chalk grassland and is home to dozens of species of wildflowers which attract pollinators of every sort – bees, butterflies and moths.  Bird life, including Corn Bunting, Yellowhammers and the South Downs songster, the Skylark, are often spotted.
It also lays claim to playing an important role in World War Two , where prior to D-Day, General Dwight D. Eisenhower addressed US troops who were often entertained by shows and activities hosted by the USO (United Services Organizations).
The South Downs Rambler Bus runs between Winchester and Petersfield every Sunday from 10 July to 11 September, as well as the August Bank Holiday Monday, stopping at Cheesefoot Head. 
2. Devils Dyke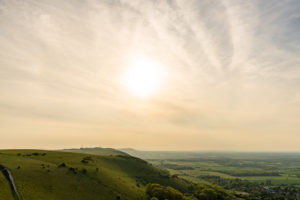 Arguably one of the most impressive views in the South Downs, Devil's Dyke was a popular tourist destination in the late 19th and early 20th century. Between 1887 and 1939, a railway line used to shuttle visitors between Dyke Junction Station (now Aldrington station in Hove) and the foot of the hill.
To entice even more visitors, a funicular-like 'Steep Grade Railway' was installed in 1897 to take visitors from the head of Devil's Dyke down to the village of Poynings.
Brighton and Hove Buses run a number of 'Breeze Buses', taking residents and visitors to Brighton and Hove out into the National Park.
Throughout the summer, the 77 route runs Saturday, Sundays and public holidays, as well as Mondays and Fridays between 17 June and 30 August.
3. Seven Sisters Country Park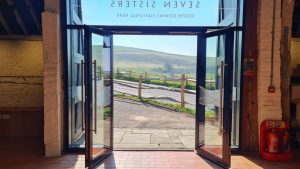 Views don't get as iconic as the white, chalk cliffs of Seven Sisters.
A delightful spot for walking and bird watching, Seven Sisters Country Park is the perfect place for a leisurely lunch.
With a new 'Grab and Go' takeaway serving up local food and drink, you don't even need to pre-pack your picnic.
As with Devil's Dyke, Brighton and Hove Buses run a number of services to Seven Sisters throughout the year including the 13X, 12A and 12X.
Watch the video below to see some of the amazing chalk grassland wildlife you can look out for at Seven Sisters.
4. Birling Gap and Beachy Head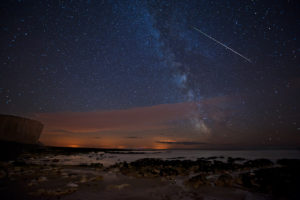 Sitting immediately east of Seven Sisters, Birling Gap is a beautiful enclosed pebble beach and is one of the best spots in the South Downs National Park to view the milky way.
Standing at 531 ft above sea level, a post-lunch walk from Birling Gap up to Beachy Head is a superb way of burning a few calories. We promise the view from the top will be worth it.
Both can be reached on the 13X operated by Brighton and Hove Buses.
5. Bramber
Bramber is very much the idyllic Sussex Village. Think flint walls, thatched roofs and narrow streets.
Neighbouring nearby Steyning, Bramber is perhaps best known for it's medieval castle, originally built to defend an important port on the River Adur.
The Compass Bus 100 service runs between Burgess Hill and Horsham, taking in the villages of Henfield, Upper Beeding, Storrington, Pulborough and Billingshurst, as well as Steyning and Bramber.
Jump off the bus in Bramber and head towards the Adur for a river-side picnic before gently walking to Steyning and heading home.
6. Cissbury Ring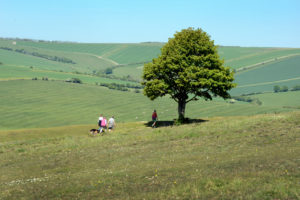 The second largest hillfort in England, Cissbury Ring is steeped in history and legend.
Originally fortified in the Middle Iron-Age, the fort was abandoned shortly after the Roman Conquest of England, quickly becoming farmland.
Metro Bus runs a daily 23 service to May Tree Avenue, your jumping off point for walking towards the Ring.  From here, it's a short walk up May Tree Avenue and Storrington Rise to the National Trust car park and the footpath to the Ring itself.
Once at the top, you can expect 360 degree views across the South Downs, the low Weald, the English Channel and even the North Downs and Surrey Hills.
7. Black Down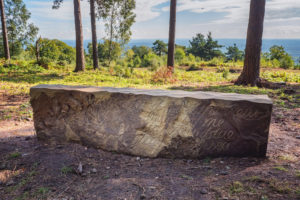 The highest point in the South Downs National Park, Blackdown Hill is a landscape of wavy hair grass, purple heather and pine trees that gives visitors a true sense of "wild".
The views have inspired many and none so renowned as Tennyson himself: 'You came and looked and loved the view, long known and loved by me, Green Sussex fading into blue with one grey glimpse of sea.'
As you amble down some of the ancient sunken lanes and drove ways, you can feel a sense of timelessness. Traders, shepherds and chert quarrymen have been using these tracks for thousands of years.
Haslemere train station is just 2 miles away from Black Down. If travelling by bus, Stagecoach runs a number of services from Haslemere to Tennyson's Lane, not far from the main car park at Black Down.
Black Down is a prime example of lowland heath – one of the rarest habitats in the world – and is home to numerous species of reptiles, amphibians, butterflies and dragonflies.
Watch the video below to learn more about this biodiverse landscape.
8. Stanmer Park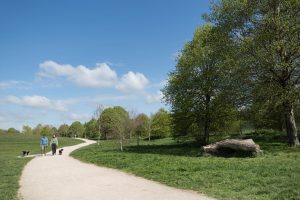 Sitting at the northern tip of Brighton, Stanmer Park is a beautiful area of open countryside.
Easily accessible either by train (alight at Falmer) or bus (the number 78 "Breeze" bus goes directly to Stanmer Village), Stanmer has a wealth of history to discover.
It is thought that the word Stanmer comes from the Anglo-Saxon words 'stan' and 'mere' which mean 'stone' and 'pond'.
To the east of the church, which was built in 1838 on the foundations of a 14th
century building, you can still see a stony pond.
Archaeology shows that Stanmer Park has had human activity since Neolithic times with the Great Wood containing Bronze Age barrows, tumulus and a cross ridge dyke (a prehistoric land boundary).
In 765 AD, Stanmer was given to the Canons and Monks of St Michael, South Malling by King Aedwulf.
It belonged to the Church until the dissolution of the monasteries when it became property of the Crown.
The estate changed hands frequently until Sir Henry Pelham purchased it in 1712 for £7500. It was the Pelham family that redeveloped Stanmer to the version we see today.
The church, the village and the manor house stand on sites of much earlier versions of themselves, with some of the building materials being reused in the current buildings.
If visiting, be sure to check out One Garden Brighton, a reinvented walled garden home to a shop, café and marvellous flower displays.
---
Leave no trace
We all have a responsibility to help look after nature.
If bringing a picnic, remember the following:
Take home all your litter. Even if there are waste bins, these can often overflow after busy days and rubbish may not be collected immediately. Help wildlife and nature by taking this with you when you leave, this includes any dog poo.
Keep dogs under control. If you are bringing your dog, please keep them on the lead to avoid disturbing wildlife and farmlife.
No BBQs or open fires. In the summer months, the risk of wild fires can be very high. Please don't light BBQs or have open fires when visiting nature sites.
Leave gates as you find them. As a rule, gates should generally be closed. However, farmers may intentionally leave gates open, particularly if livestock is moving between fields. If in doubt, please close the gate.