Ten inspiring ideas for a festive amble in the South Downs National Park
December 17, 2020
Christmas has always been a wonderful time to recharge the batteries and enjoy some serene strolls with loved ones after one too many mince pies.
After a very challenging year for so many, winter wellness, fresh air and sun-induced Vitamin D have never been more important. With over 3,300km of public rights of way, the South Downs National Park really is a walkers' paradise, with ambles for all ages and fitness levels that are guaranteed to put a spring in your step and lift your mood.
So here, the National Park's access expert looks at 10 ways to enjoy walking this festive season, while keeping yourself and others safe.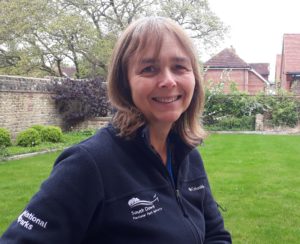 Allison Thorpe, Access and Recreation Lead for the National Park, says: "With its misty mornings, amazing sunsets, and frost-covered hills, the South Downs really does turn into a picture-perfect winter wonderland at this time of the year.
"We've seen so many people reconnect with nature during this difficult year and really appreciate the wondrous beauty of the South Downs. As always Christmas will be a time when people seek to get outdoors for fresh air – either to work up an appetite or work off the festive excesses!
"Our advice is to enjoy the National Park and soak up all its tranquillity – it's certainly good for the soul. If you can, do try to walk or even cycle to the part of the National Park near where you live as car parks at visitor hotspots can get very busy over the festive season.
"Key is planning ahead – so that if you arrive somewhere and find the car park is already full, you can travel to your alternative, and why not try and explore some of the quieter spots? Farmers and land-managers have been working hard throughout this year to continue food production in the South Downs, so do give them a festive thank you by sticking to the Countryside Code, keeping your dogs on a lead and avoid parking on grass verges.
"Wherever you go, we hope all visitors have a restful Christmas and New Year and feel uplifted by the South Downs National Park."
Allison's 10 Christmas walk inspirations:
Leave the car at home and help the environment
The South Downs National Park has a network of hundreds of picturesque nature reserves and beauty spots, all within walking or cycling distances of many large towns and cities such as Brighton, Worthing, Chichester, Haslemere, Waterlooville, Fareham and Farnham.
Instead of piling into the car after your festive meal and trying to find a parking space, why not explore some of the walking trails in the National Park close to where you live? The South Downs Discovery Map is a great place to start and you may enjoy a new, unexpected adventure!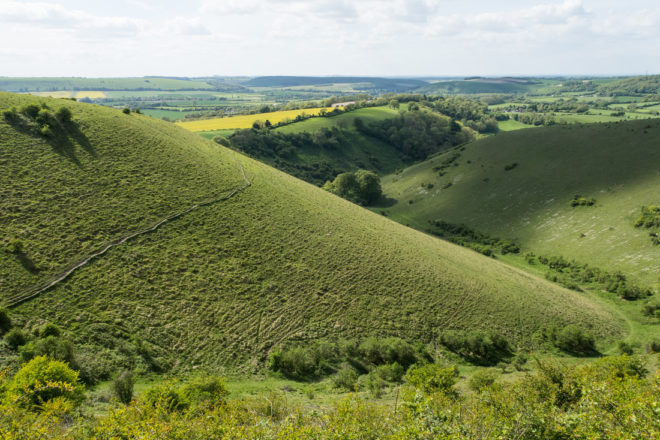 Gaze at stunning views
Who doesn't get to the top of a hill and feel a sense of achievement? The South Downs has dozens of amazing viewing points for enjoying awesome views of the Downs and English Channel. Butser Hill, Blackdown, Cissbury Ring, Devil's Dyke, Mount Caburn, Firle Beacon, Ditchling Beacon…there's many to choose from. Just make sure you have the camera ready for when you get to the top!
Step back in time
With over 5,200 listed buildings and 570 scheduled monuments, the South Downs oozes historical charm. Petworth Park, Gilbert White's House and Gardens, the Weald and Downland Living Museum and Stanmer Park are great places to enjoy a walk and be surrounded by beautiful architecture (please check venue website on opening times and remember pre-booking may be required)
Feel part of nature
With over 1,000 designated nature conservation sites, the South Downs is a beacon of biodiversity for British fauna and flora. While many animals may be tucked away during the colder months, there are still some lovely nature moments to enjoy. Look out for redwing, green woodpecker, fieldfare, soaring birds of prey like red kite and if you're lucky, a glimpse of a roe or fallow deer. Don't forget the plant life too – winter holly, ivy and berries and gnarled tree branches can make for some eye-catching photography! The expansive Slindon Estate or Queen Elizabeth Country Park are good choices for nature-lovers, but there's certainly lots to choose from.
Forest bathe
Walking in the woods can be such a calming, mindful experience and the treescape of the South Downs is certainly impressive – covering almost one quarter of the National Park. There's plenty of large woodlands to explore, such as Stansted Forest, Alice Holt Forest and Friston Forest.
Search for a sculpture
Can you find the cricket, sand lizard, "sheep pig" and the quote from the celebrated poet Tennyson? Many people have enjoyed ticking off visits to each of the seven stone carvings that make up the Heathlands Sculpture Trail since its launch in September. The intricate pieces of art tell the story of the history, wildlife and people of heathlands, linking up Wiggonholt, Stedham Common, Lavington Plantation, Shortheath Common, Graffham Common, Black Down and Woolbeding. Download this walk leaflet for more information.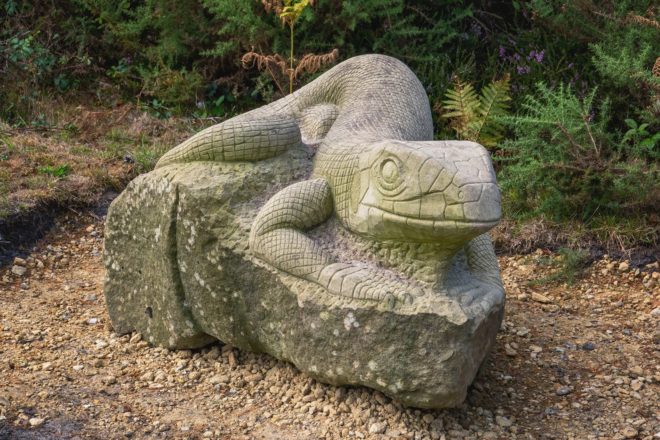 South Downs Way
We're not suggesting you walk the whole 100 miles from Winchester to Eastbourne, but many do! This National Trail runs along the top of the chalk escarpment and commands some of the best views in the south of England. Many walkers like to do a section at a time, completing the whole trail over weeks, months or even years. You'll also be walking in the footsteps of ancestors who have been treading this trail for 5,000 years.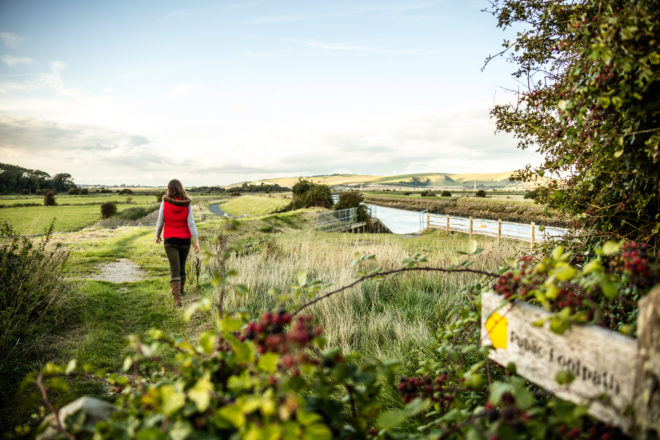 A riverside ramble
Did you know the National Park has seven rivers running through it – the Cuckmere, Ouse, Arun, Adur, Rother, Meon, and Itchen? Each has its own unique charm and biodiversity and the sounds of flowing water certainly add to the peacefulness of a festive stroll. One of the most accessible rivers is the Ouse in East Sussex, with the Egrets Way shared use path. With a distance of around 7 miles, the route for cyclists and walkers takes you on a journey through landscapes that are as archaeologically fascinating as they are naturally captivating. More info here: www.egretsway.org.uk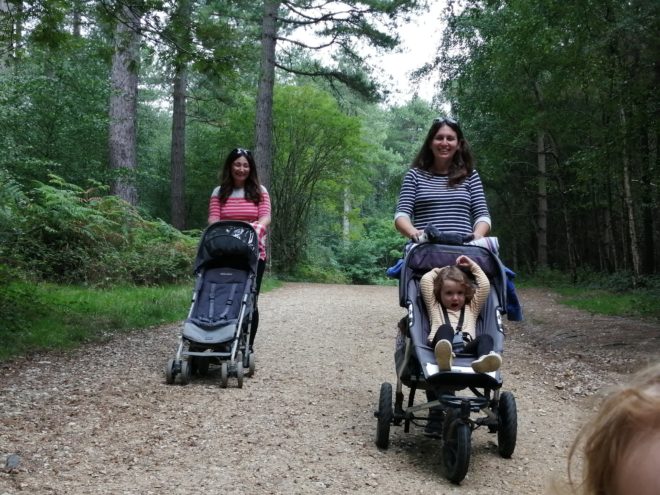 Miles Without Stiles
The beauty of the South Downs National Park is its accessibility – you don't need expensive hiking boots to explore! Funded by Gatwick Airport, there are new accessible routes which have had stiles removed, gates replaced and brand-new surfacing to make your walk as easy as leftover turkey pie! These walks are perfect for families with buggies and people using mobility scooters. New for winter 2020 is West Walk in the Forest of Bere, near Wickham, in Hampshire. You can discover the beauty and tranquillity of a former Royal forest. Today it's a peaceful spot where you're more likely to spot a shy roe deer or hear a drumming woodpecker. Download the walk leaflet and find other Miles Without Stiles routes here: www.southdowns.gov.uk/all-abilities/miles-without-stiles/
Virtual walk
For many reasons, some people may not be able to access the National Park this festive season. Why not try a guided virtual walk? It can be quite an immersive experience, with stunning views to enjoy and you'll also get learn a bit more from a National Park ranger. There's a few to choose from on the National Park's Facebook account so why not enjoy a brandy coffee, leftover Christmas cake and join one of our rangers for half an hour? Here's a virtual walk of Midhurst Common to try out.
For more walks visit www.southdowns.gov.uk/get-active/on-foot/
Main feature image by Frances Valdes