Your summer of South Downs cycling starts here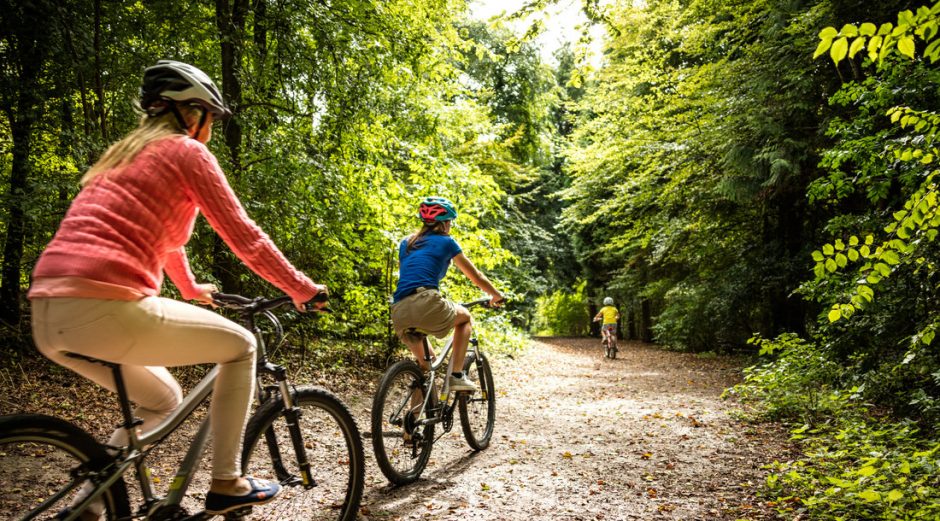 June 8, 2018
From new or nervous riders to mountain bikers, the South Downs has something to offer most cyclists. Alister Linton-Crook, South Downs Cycling Officer, shares some ideas.
Where to get started
If you're new to cycling or haven't ridden for a while you'll be looking for a wide, flat surface well away from traffic where you can build up your confidence. There are a number of trails following old railway lines across the National Park which fit your needs, open to cyclists, walkers and horse riders, many of which start and end at current railway stations. Try the Downs Link from Shoreham, Centurion Way which starts in Chichester, the Meon Valley Trail and the route linking Petersfield to Queen Elizabeth Country Park, both in Hampshire.
Look out for some 'Cycle the Downs' guided rides during the summer from Peacehaven, Newhaven and Seaford as part of the East Sussex Active Access for Growth Programme. They will be ideal for beginners and returning cyclists wanting to experience some gentle, social rides and learn about landscapes and heritage of the National Park.
Ready to find some company?
If you're feeling ready to explore further, but would like a bit of support or company, it's time to join a group ride or perhaps a sportive.
Cycling UK have a list of organised rides and cycle events running until 28 July as part of their Big Bike Revival
Most cycling clubs are accredited to Cycling UK or British Cycling and have regular organised rides catering for cyclists of all levels. Find your local club at www.cyclinguk.org/go-cycling and www.letsride.co.uk/social
You may wish to enjoy one of the many cycle sportives or mountain bike events in the National Park which are hosted by a range of organisations including charity rides, cycling clubs and commercial bodies. More information is available on this website
Seeking more adrenaline?
You can find dedicated bike parks with graded trails at Queen Elizabeth Country Park, Rogate Downhill, Stoughton Forest, Steyning MTB and Friston Forest.
You can also find and download plenty of off-road routes in the South Downs on the View Ranger app
Where to watch cycle racing
Cycling to watch this summer include the Men's Tour of Sussex stage race from 5 to 8 July which takes in a time trial up Ditchling Beacon, Goodwood and Beachy Head. The Women's Tour of Sussex stage race is from 6 to 9 September including a Bo Peep time trial and Beachy Head.
On 23 September the first 100-mile VeloSouth closed-road cycle event will come through the National Park. Individual places sold out almost immediately but there are still charity places available. Evidence from similar races shows that these events can be a huge boost for the local economy with cyclists and their families not only spending in local shops and accommodation on the day but returning at other times of year – so get out and cheer those riders on!
Quick Links
Learn, Enjoy & Care For
National Park Authority
Planning