South Downs Rangers on Tour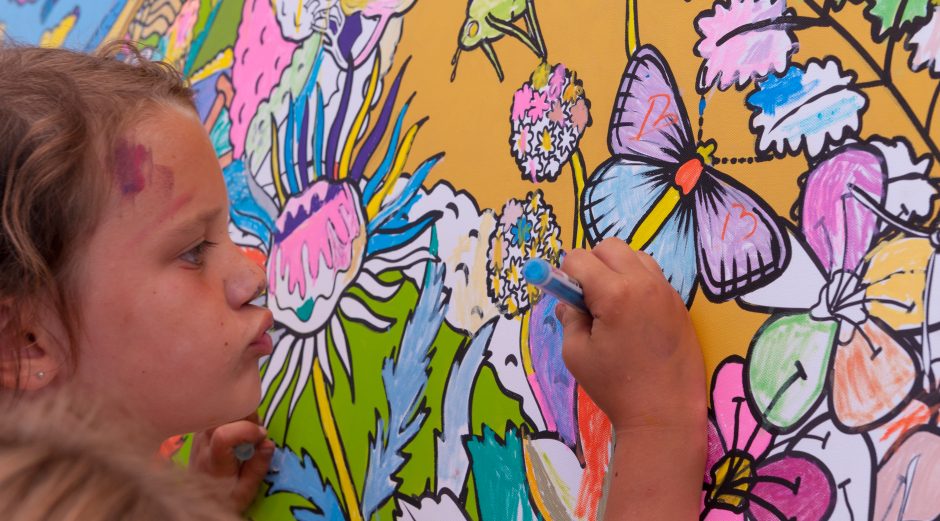 July 5, 2018
With the long school holidays on the horizon we're joining our fellow National Parks across the country to celebrate National Parks Week, from 23 to 29 July. Look out for our rangers – coming to a town centre near you!
There are 15 National Parks in the UK and from the Cairngorms in Scotland to Dartmoor and Exmoor in Devon, Pembrokeshire Coast in Wales to the Broads in Norfolk, there will be events happening around the country – look out for them if you're on your summer travels.
For National Parks week 2018 we're taking our rangers out on tour – visiting towns on the edges of the National Park to encourage more people to come and enjoy the South Downs over the summer holidays.
We can't wait to get making forest friends, printing sashes and testing wildlife knowledge with our giant jigsaws. Look out for our giant colouring wall which we'll be bringing out for the first time.
We'll be ready to share tips for nearby places where parents can easily take their kids to for a taste of the National Park without being intimidated. We'll also be inviting the people we meet to join us for a free guided ranger adventure out in the South Downs over the school holidays.
Where to find us
Brighton – 22 July, 11:00-17:00
• Find us at the Wild Chalk event in East Brighton Park
Crawley – 25 July 2018, 11:00-15:00
• Find us in Queens Square, Crawley Town Centre
Southsea – 26 July, 11:00-15:00
• Find us at the Play area by the canoe lake, Clarence Esplanade, Southsea Seafront
Worthing – 27 July, 11:00-15:00
• Find us at the junction of Montague Street and Montague Place in Worthing Town Centre
National Parks have an important role to play in supporting people to experience the mental and physical benefits from being in nature but and the social benefits of being outside – for a walk or a ride or to volunteer – with other people. If you read that and thought, "well that's obvious!" then you're lucky. Not everyone has the chance to experience the countryside, feels comfortable walking out on a footpath or even realises that this amazing free resource is here for them to enjoy.
Our education team go out to schools all year, introducing young people to our landscapes and wildlife and, hopefully, setting them up for a lifetime of knowing that National Parks are for everyone. They've engaged tens of thousands of children and, through our travel grants, have enabled more than two thousand students from more deprived communities to experience learning outside the classroom in the South Downs.
You can help us spread the word too. If you know someone who thinks nature is for other people why not invite them on your favourite walk or to your favourite picnic spot to celebrate National Parks Week and introduce them to the glories of the South Downs.
Quick Links
Learn, Enjoy & Care For
National Park Authority
Planning