Seasons change, and so do rangers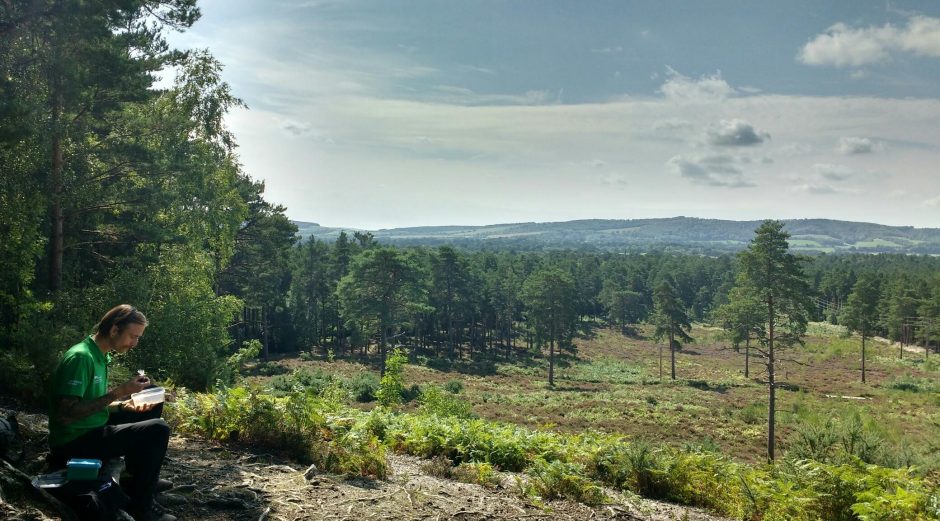 September 4, 2018
On his final week working before leaving the South Downs for warmer climates ranger Matt led a lunchtime walk through Midhurst Common. Volunteer Development Officer, Daniel Greenwood, reflects on their adventure, taken as part of the John Muir Award in the South Downs.
'From the point of leaving Midhurst town centre to our return, the feeling of two seasons changing hands was keen – our warm weather walk was littered with fungi. We headed up onto Midhurst Common through shady pine forest tracks to reach a lunch spot that looked out over the South Downs. On his penultimate day in post, Central Downs Ranger Matt Dowse was there to talk us through his patch.
'Pointing to woods and folds in the chalk ridge, Matt picked out many points of interest: slopes too steep for most contractors to happily work on; a single beech tree; downland Sites of Special Scientific Interest and political hotspots. It is the kind of knowledge you only gain from working outside with people and the land, the details that that local people pass on through generations. There is so much valuable landscape knowledge held by individuals like Matt and his fellow rangers across the National Park.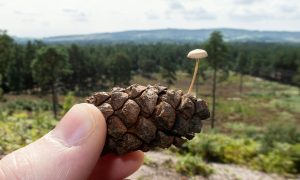 'In the pine woods mushrooms were plentiful, with several members of the fearsome Amanita family pushing through the soil. Other finds included slug-munched boletes such as the prized Boletus edulis, otherwise known as penny bun, cep or porcini, and a milkcap that, true to its Latin name, was lactating when inspected.
'Returning down the slope we passed solitary wasps entering nest holes in the track, a black adder slipping off into the heather and a beetle that buzzed to warn us away. The heather was still flushed pink and the bracken showing the first signs of yellowing, all against a blue sky. Passing through the old sand quarry, birch woods spread to the point of a large pond where dogs cooled off. This time the mushrooms in the grass under the birches included brittlegills in varying states of decay underfoot.
'The woods changed again to oak, beech and hazel, with more bright red brittlegills protruding at the path edge as the first signs of civilisation appeared between the leaves. The group split and returned to our respective offices, saying goodbye to Matt. The thought was unshakable after two hours on a late-August heathland: autumn is coming.'
The John Muir Award is a national environmental award that encourages people of all backgrounds to connect with, enjoy and care for wild places through a structured yet adaptable scheme. The Award isn't competitive but should challenge each participant and encourages awareness and responsibility for the natural environment, in a spirit of fun, adventure and exploration.
Find out more about the John Muir Award in the South Downs
Quick Links
Learn, Enjoy & Care For
National Park Authority
Planning