ReNature Resolutions for 2023
January 5, 2023
Kick-off your 2023 by committing to doing something brilliant for nature
In July 2021, the South Downs National Park Authority launched our ReNature campaign.
We committed ourselves to increase the amount of land managed for nature in the National Park from the current 25% to 33% by 2030 – that's an extra 13,000 more hectares managed for nature.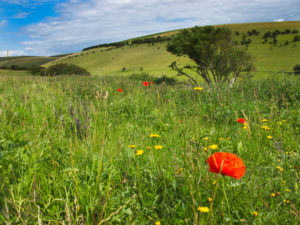 In football terms, that would be creating 18,207 football pitches of new homes for nature.
When we launched the campaign, we knew this would be an ambitious ask.
But, since then, we've seen lots of exciting and innovative projects come forward, bringing us closer to realising our goal.
Whilst many of these projects are big, landscape-scale initiatives, we shouldn't lose sight of just how much can be achieved by families, communities and businesses getting out there and doing their own thing to support nature recovery.
Here are just a few ideas on what you can do to help ReNature the South Downs.
Individuals
For individuals and families, there's plenty you can do from home. Whether you own or rent, live in a house or a flat, you can adopt some of these ReNature resolutions.
Designate a section of your outdoor space to nature – look at pulling up turf in your garden and sow with wildflower seeds. Alternatively, if you live in a flat, put some seeds in a window box and watch the bees and butterflies come to you. The RSPB has lots of good tips and suggestions on wildlife-friendly gardening. Other great ideas include leaving your garden a bit messy for small mammals and birds to gather supplies for a nest. Check out Plantlife's #NoMowMay campaign on letting your garden grow for a month.
Feed the birds all year round – seed works great in the summer, whilst fat balls are preferred in the winter. By encouraging birds to your garden throughout the year, you'll be providing refuge for some of our threatened bird species. Birdslife have a helpful list of what you should and shouldn't feed to birds.
Provide water for wildlife – even the smallest of ponds can become an oasis for wildlife. Dragonflies (very good at keeping pesky mites and aphids at bay), breed in fresh water and will try to return year on year. The Wildlife Trusts have a helpful guide on creating a pond for wildlife.
Volunteer with a nature focused organisation for a year – there's lots of great volunteering opportunities around. Check out local Facebook groups to find green groups near you helping to restore nature. Our own list of volunteering opportunities with the South Downs National Park Authority can be found on our volunteering pages.
Pick up litter in your local area when you can – microplastics are particularly problematic and even the smallest amounts can get into the soil and water supplies. When out for a walk or run, take a small bag with you to pick up litter as you go and out in a bin so it can be disposed of properly.
Businesses
There's lots of creative ways for businesses to participate in nature recovery. Here's just a few.
Create a nature section of our outdoor space – if you have some outdoor space, consider planting wildlife seeds along edges or in pots. These provide a perfect refuge for pollinators and can form part of a Bee Lines network to connect pollinator-rich habitat across the National Park and beyond.
Run a nature focussed team building day – look at ways to volunteer with a local nature reserve. Whether it's removing invasive species or planting new woodland, this is a great way to get your hands dirty for nature.
Carry out an audit of stationary supplies and suppliers to see how you can be more eco-friendly – make a shift away from plastic intensive goods and supplies to recyclable materials.
Run a sponsored team walk to raise funds for the ReNature campaign – get in touch with the South Downs National Park Trust if you have an idea for a team fundraising activity to raise funds for ReNature projects.
Communities
Communities are already leading the way for nature recovery. Groups like Greening Steyning and Petersfield Climate Action Network (PeCAN) are working across towns and parishes to transform their communities.
Facebook is a great place to start looking for groups near you. Simply type in the name of your town or village and see what groups are near you. If looking to start your own group, post on an existing community group or page to find others who might want to get started.
This video about Greening Steyning might give you a few ideas on where to start.
Once you have your group, here's a few things you can try and do: