Reflecting on progress a year since major Government review
October 9, 2020
A message from Trevor Beattie, Chief Executive of the South Downs National Park Authority.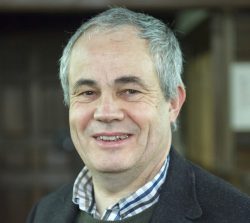 It's now more than a year on since the publication of the Glover Review of Protected Landscapes, a milestone report grounded in a deep love of landscape and strong support for National Parks and Areas of Outstanding Natural Beauty.
The report underlined the fact that the South Downs National Park was on the right track in most of our key areas – including engaging with young people and under-represented communities, improving accessibility and tackling the biodiversity emergency. However, we know much more remains to be done to address the long-term challenges facing all protected landscapes.
Earlier this year we published the Partnership Management Plan for the National Park, which brings together environmental organisations, land managers, farmers, community organisations, communities, businesses and volunteers, and sets out the 10 ambitious outcomes we want to achieve over the next five years. Two crucial ambitions are to help nature recover and to connect everyone with nature for the benefit of both nature and people.
These are two of the most important recommendations of the Glover Protected Landscape review.
The Covid pandemic has brought challenges for the National Park, as it has to all aspects of life. Yet we know the pandemic has led to people needing the National Park more than ever, and to a positive shift in the importance people give to protecting and enhancing nature:
We're continuing to work really hard to turn the tide on biodiversity loss on a big and small scale, through larger landscape projects such as Heathlands Reunited and via smaller initiatives for individual indicator species such as the Field Cricket and Water Vole. We're also spearheading a number of innovative schemes, including Bee Lines, to create a new network of wildflower corridors, and Trees for the Downs, which is planning to plant over 8,500 trees this season. Working with partners, we've already planted over 1,500 disease-resistant elms over the past two years – restoring an iconic tree of the Downs that is also a key driver of biodiversity.
As part of our work to help nature recover, we launched our People and Nature Network Strategy in August. This is all about identifying how we can conserve, expand and restore nature across the entire South East through a network of "green infrastructure". Nature doesn't recognise administrative boundaries, so this bold long-term initiative makes space for nature in urban as well as rural environments and create links with the National Park which already has over 1,000 nature conservation areas.
We have also been working hard to connect people to the National Park. Before the pandemic began, more than 3,000 people of all ages from across the National Park and our urban fringes came to enjoy the Dark Skies Festival in February to learn more about the amazing stargazing opportunities on their doorstep.
Our annual schedule has, in recent years, shifted to running targeted engagement events to reach those groups currently not visiting the National Park, including the young, urban and BAME groups. Last year, for instance, we met and spoke to over 18,000 people at events, many in urban areas in and around the National Park. It was clear that it would not be possible to run these events as usual in 2020, so we have been piloting some very successful virtual events. Our first pilot, the Wild Chalk Festival in July, reached many thousands of people, with large audiences tuning in from Brighton, London, Portsmouth, Southampton and as far as Manchester and Bristol. In September we followed this up with our Secrets of the Heath event. Together these two festivals helped us bring the National Park to over 166,000 people, hopefully encouraging many to enjoy and care for the National Park.
There are now five Miles Without Stiles routes in the National Park that enable people with limited mobility, wheelchair users or mobility scooter users to be able enjoy extremely easy access to glorious parts of the National Park. Work is under way on new stile-free routes.
Work has continued to increase accessibility to the National Park from urban areas, with extensions to multi-user paths at Centurion Way (connecting Chichester and surrounding communities) and Egrets Way (connecting Lewes and surrounding communities).
Our education team continue to build a strong foundation of schools' engagement. This autumn they have launched an innovative new programme of online teacher training to help encourage more learning outside the classroom. The education team have also launched two new grants schemes to help facilitate school trips in the National Park and/or an expert to visit the school.
Over the summer we had over 70 sign-ups from families – many from urban areas – who were able to join in a nature activities programme. With the help of our Families Outreach Officer, we're delighted that seven families and two individuals achieved their John Muir Award. We are now trialling face-to-face family work with a charity in Portsmouth working with young people who have a disability.
Our health and wellbeing work continues to expand and diversify and we have been pleased to help run several successful community initiatives, including arts projects to promote wellness at popular sites such as Butser Hill in Hampshire and Truleigh Hill in West Sussex. Our new health and wellbeing strategy will be launched soon.
We've been working incredibly hard to address recommendations in the Glover Review, building on the strong foundation we already had and also devising new innovative ways to extend our impact and influence.
We are, however, disappointed that one year on the Government has not yet produced a response to the Glover Review. Our hope is that this will be coming very soon.
Implementation of all of the recommendations in the Review will clearly require significant additional funding which is secure over the long term to match the scope and ambition of our plans for nature recovery.  We will be seeking this clarity and certainty in the Government's response.
We stand at a pivotal moment for National Parks and other protected landscapes. In these challenging times, access to green space is needed more than ever and the global biodiversity emergency is now firmly on the public agenda. The COVID-19 pandemic has seen people from all areas re-connect with nature, giving many a new appreciation of how just valuable it is to our health and wellbeing. Now is the time to make the most of this renewed enthusiasm. The South Downs National Park Authority, as a major environmental and planning advocate and practitioner across the South East, is taking a key leadership role.
As the Government commits to a Green Recovery, we're ready to develop the proposals laid out in the Glover Review to build a better future for people and nature together. The message to policy makers is clear – that investment in nature and the environment is the best long-term investment that any nation can make.