Secrets Discovered
The Lidar survey followed by the volunteers' fieldwork has found over 500 new sites and these discoveries can be seen on the map below, by clicking on the red dot.
The information is the volunteers' interpretation of the feature and further investigation may give us more information.
By clicking onto this map you agree that:
You know that this is private land and you cannot go off public footpaths and bridleways without the agreement of the landowner and any tenant farmers/foresters.
The use of metal detectors on private land must have the consent of the landowners and consents and you should abide by the Code for Responsible Metal Detecting – see code of conduct.
Finds under the Treasure Act must be reported to the Coroner and to the Finds Liaison Officer and all other finds should be recorded by the Portable Antiquities Scheme – the relevant FLO's are for Sussex – Edwin Wood email flo@sussexpast.co.uk and for Hampshire – katie.hinds@hampshireculturaltrust.org.uk
This is a working and productive landscape and the activities you may see are key to keeping this landscape we all love. Please respect the Countryside Code and keep to rights of way.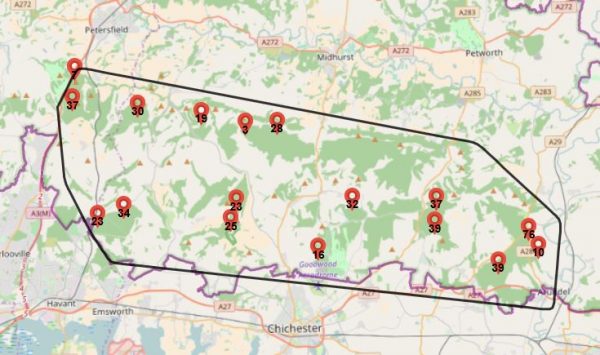 You can also see the lidar image of the surface including tree tops and buildings (the digital surface model or DSM) and the image of the ground surface, the digital terrain model (or DTM).
Another way of processing the survey produces the Local Relief Model (the LRF) and this and the DTM are the best for showing the archaeology.
If you see a new feature not investigated by the volunteers in the models here or in the field, please contact the local authority archaeologists who maintain the database known as the Historic Environment Record.