New initiative will inspire more people to learn about their local heath
March 9, 2020
An exciting new partnership is being launched to inspire more people to learn about their local heath and help care for the rare wildlife.
Whitehill Town Council is teaming up with the South Downs National Park's Heathlands Reunited initiative, which is working to protect heathlands that are among the world's rarest habitats.
The Town Council will be funding a seasonal Engagement Ranger for Broxhead and Kingsley Commons, near Bordon. Delivered by the Heathlands Reunited team, the ranger will be onsite from March to September and will be running a series of wildlife identification, guided walks and dog walking activities.
The appointed Engagement Ranger will also be offering talks and site visits to local community groups and schools in the Whitehill and Bordon area.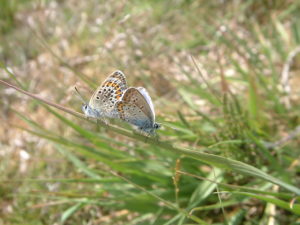 Both Broxhead and Kingsley Commons are what remain of a vast lowland heathland habitat that once stretched across Hampshire and Sussex and is now confined to a few isolated pockets. Both are Special Protection Areas and support several rare species such as the European Nightjar, Dartford Warbler, Sand Lizard, and the Silver-studded Blue and Grayling butterflies.
Katy Sherman, Heathlands Reunited Activities and Engagement Officer, said: "We're really pleased to be announcing this new initiative that brings the community together to care for our precious heaths. It combines the tremendous enthusiasm there is locally in Whitehill and Bordon to care for these wildlife havens with the expertise and knowledge of the Heathlands Reunited project.
"Heaths are enjoyed by so many people for appreciating nature, walking, cycling and horse riding. They are extremely important sites for community health and wellbeing, as well as being important military training areas. Everybody who uses the heathlands has a part to play in safeguarding these special sites for future generations to enjoy, and to protect the rare and threatened wildlife that lives there.
"The new Engagement Ranger will be the friendly face of the Commons, bringing people together to care for the heaths and hopefully reaching new audiences who might not be aware of how amazing these habitats are."
Cllr Andy Tree, Leader of Whitehill Town Council, said: "The Town Council is very happy to be funding a seasonal Engagement Ranger for Broxhead and Kingsley Commons. We have a number of special and rare species in our town council area and protecting our heaths is so important."
If you are interested in linking up with the Seasonal Engagement Ranger and are local to Broxhead and Kingsley Commons please email heathlands@southdowns.gov.uk to register your interest.