Major investment to improve visitor experience at Butser Hill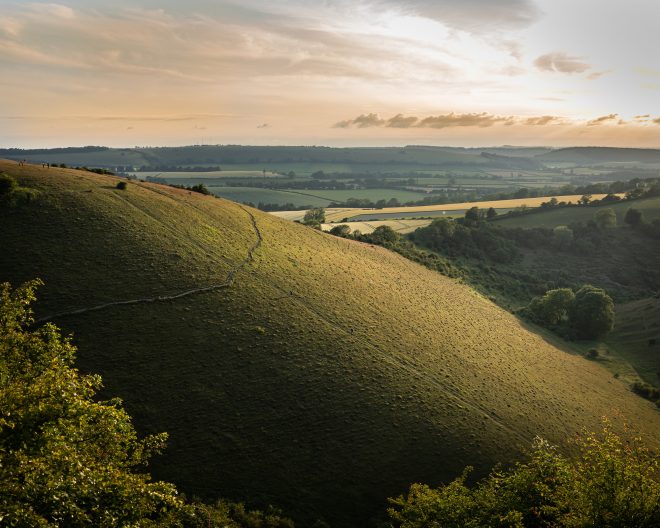 The highest point on the South Downs and one of the most visited hills in southern England will be significantly improved for walkers and wildlife, thanks to new funding of £240,000.
At 271m, Butser Hill is one of the crown jewels of the South Downs National Park, visited by over 80,000 people every year who come to enjoy its panoramic views of coast and country and the enchanting wildlife.
Now a major investment by the National Park Authority, Hampshire County Council and National Grid will see a raft of improvements, including new trails, resurfacing pathways, enhancing views and restoring ancient chalk grassland.
One of the focuses of the five-year project will be the dramatic chalk scarp slope called Grandfather's Bottom. Invasive scrub vegetation will be removed to accentuate the drama of the South Downs landscape and enhance chalk grassland that is home to several rare species, such as the chalkhill blue and Duke of Burgundy butterflies.  Around 380m of path and steps also will be resurfaced.
Other highlights of the work will be:
A new walking route will be created on Hillhampton Down, taking visitors into and around a yew wood – an iconic tree in this part of the South Downs.

Also at Hillhampton Down, scrub will be removed to improve the chalk grassland and encourage wildflowers and butterflies, close to where visitors are walking and preventing encroachment on archaeological features.

The municipal feel of the summit's car park will be reduced, with a new surface installed. The makeover will blend with the surrounding downland landscape and make the car park a more pleasant environment for visitors and those who have limited mobility.

New views will be opened up with the removal of diseased ash trees and a new arrangement of parking spaces will encourage views of the landscape away from the existing electricity pylons.

New interpretation on site to help people better understand the area's rich history and status as a Scheduled Ancient Monument, having been a settlement during Stone Age, Bronze Age and Iron Age periods.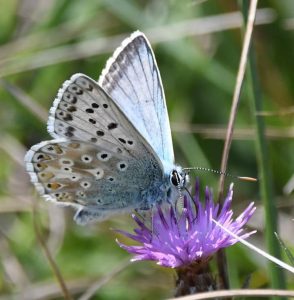 Trevor Beattie, Chief Executive of the South Downs National Park Authority, said: "Butser Hill is one of the iconic gems of the western side of the National Park and this major new funding will improve the visitor experience even further.
"Chalk grassland is an internationally-important wildlife habitat, so I'm pleased this work will further enhance the biodiversity, the dramatic views and also help people get closer to nature. The project fits seamlessly into the National Park's long-term plans for nature recovery and creating better places for both people and nature. I hope it will also inspire people to find out more about the area's rich history and ways we can all care for this treasured landscape."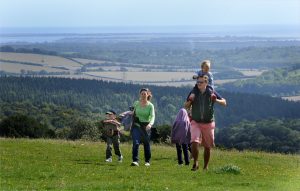 Councillor Edward Heron, Hampshire County Council's Executive Member for Recreation, Heritage and Rural Affairs, said: "Butser Hill is a much-loved landmark and a top attraction for visitors to Queen Elizabeth Country Park. I'm delighted that we can confirm the go ahead for this exciting improvement scheme. The project will help more people to enjoy this special site, whilst also preserving and enhancing its ecological and biological importance."
Funding has come from the National Grid Landscape Enhancement Initiative (LEI). LEI is part of National Grid's Visual Impact Provision (VIP) project, which makes use of a provision from the regulator, Ofgem, to reduce the landscape and visual impact of existing high-voltage electricity infrastructure in English and Welsh AONBs and National Parks. 
Environmentalist and broadcaster Chris Baines, who chairs the independent Stakeholder Advisory Group for National Grid's VIP project, said: "Through the Landscape Enhancement Initiative, National Grid is making a positive contribution towards preserving and enhancing the natural beauty, cultural heritage, biodiversity as well as accessibility within England and Wales's most precious landscapes.
"We're delighted to be working with stakeholders to provide funding for this important project at Buster Hill in the South Downs National Park and very much look forward to watching their progress as they work to help to make this historic and exceptionally beautiful area even more enjoyable to visit."
The work will be carried out by Hampshire County Council, which owns and manages the site, supported by National Park Rangers and volunteers. Updates will be provided on-site, as well as on the websites of Hampshire County Council and the South Downs National Park Authority.
Butser Hill is a 239.7-hectare biological and geological Site of Special Scientific Interest south-west of Petersfield in Hampshire. It is a National Nature Reserve and a Special Area of Conservation.

The hill is internationally important for its ground-hugging plant communities, including mosses, liverworts, and lichens and for also its chalk grassland plants, such as cowslips, which provide food for caterpillars that later metamorphose into butterflies.

Often called "Europe's rainforest in miniature", just four per cent of the National Park remains as chalk grassland. The fragile habitat, relying on a chalk-rich soil, has been formed over several thousand years and requires conservation management to maintain its unique biodiversity. A single square metre can feature more than 20 different butterfly species and up to 40 different types of wildflowers.
Main feature image by Alex Holden – Warm Glow on Butser