Do you love the South Downs Way?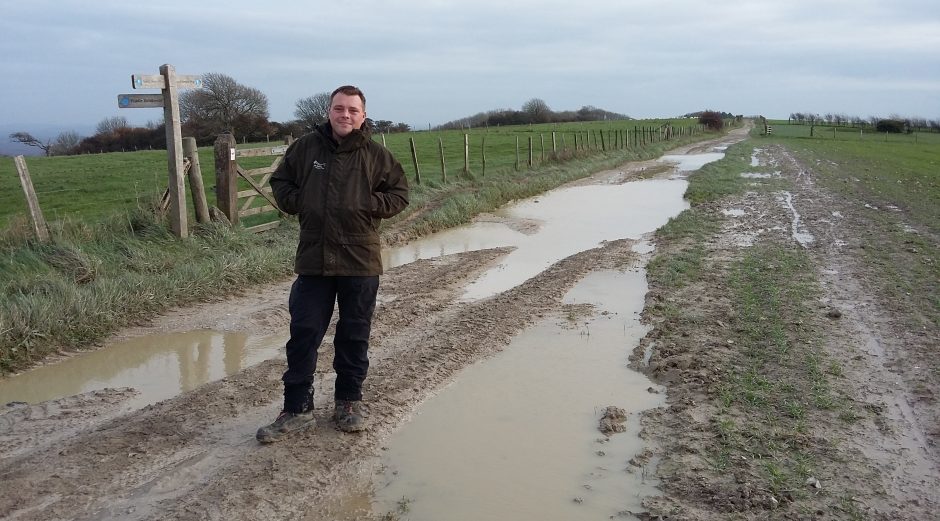 December 5, 2017
20,000 people walk, cycle or ride the length of the South Downs Way national trail and millions more will explore sections of it on days out each year – that causes a lot of wear and tear! A new campaign is asking people who love the trail to help raise £120,000 to mend it.
It's a blustery morning in November and Ben Bessant, South Downs Way Ranger, is cheerfully driving a National Park vehicle up a 23% slope over potholes that would destroy a normal car, "This is one of the easier to reach sections of the trail that we need to fix."
Ben is taking a journalist, Malcolm Shaw from ITV's Meridian, up to film a damaged section of the South Downs Way at Plumpton Plain, one of four sections of trail that the South Downs National Park Trust is raising funds to fix. Even at 10am on this less-than-pleasant weekday we spot a few cyclists, some trail runners and lots of walkers and watch them navigate the mud.
More than 80,000 people walk the high Plumpton Plain track between Ditchling Beacon and the market town of Lewes every year and although it's 200m above the sea, the path is flat – surface water is a big problem. "Farm vehicles also need to use this section of track and a small rut can quickly turn into a puddle that joins up with other puddles," says Ben, "and the path gets wider as people try to avoid the mud, making the problem worse."
Every summer the path dries out but, come the autumn rains, the problems start again. "By March it's more-or-less one long muddy puddle," says Ben.
At more than 1km long and at least 3m wide, it will take £25,000 to repair, strengthen and add drainage to this section alone, which can at least be reached by vehicle. Existing funding allows for most repairs but the campaign is focusing on four significant projects which, because they are on more remote sections of the path, are too expensive to tackle. Each year, as the erosion and mud gets worse, they get more damaged and become harder to fix.
But Ben is heartened by the enthusiastic comments from the people we talk to on the trail. "We've got a long way to go but when you see how much pleasure the South Downs Way gives, you realise why this campaign is important."
The 'Mend our Way' campaign is being run by the South Downs National Park Trust, a new charity which works with partners to protect the National Park for future generations.
Find out more and pledge your support
Watch Ben and the Mend our Way campaign on ITV Meridian
'Mend our Way' is part of the national 'Make a Million' initiative, run by the British Mountaineering Council. Find out more
Quick Links
Learn, Enjoy & Care For
National Park Authority
Planning