Innovative woodland initiative in South Downs National Park given funding boost by the Estée Lauder Companies UK & Ireland
September 18, 2023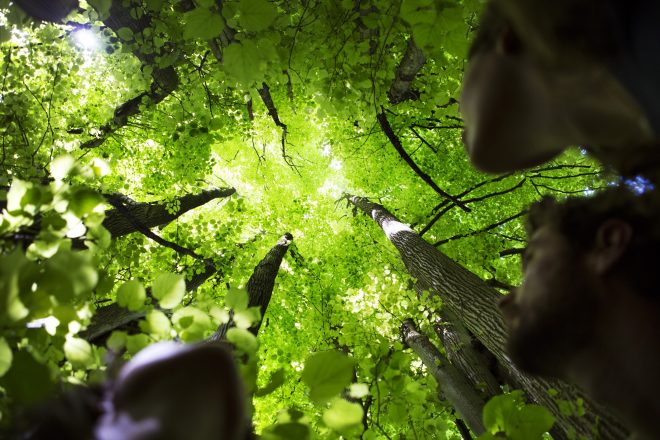 The Estée Lauder Companies UK & Ireland is supporting an innovative woodland platform project in the South Downs National Park
Woodland platform project is a key element of an ambitious woodland creation initiative aiming to establish over 5,000 hectares of interconnected native woodland habitat
Delivered through UK nature restoration facility 'Revere', a collaboration between National Parks UK and Palladium.
In 2021, The Estée Lauder Companies UK & Ireland committed £500,000 over five years to Revere with a focus on innovation in nature-based solutions across the UK's National Parks
As part of a five year commitment to nature restoration across the UK's National Parks, The Estée Lauder Companies UK & Ireland (ELC) has announced its support of an innovative woodland platform project in the South Downs National Park.
The platform is part of an ambitious woodland initiative being delivered by UK nature restoration facility, Revere, a collaboration between National Parks UK and Palladium.
Funding is being directed to the design of an innovative woodland creation financing platform, the aim of which is to aggregate many individual tree planting sites to establish over 5,000 hectares of interconnected native woodland habitat across the National Park. Currently at the design stage, ELC's funding will support Revere and the National Park Authority to conduct ecological surveys, establish agreements with landowners governing access to land, design a payment mechanism to manage long term income flows for land managers, and work with surveyors and groundworks teams to ensure smooth implementation. 
A key element of the South Downs woodland initiative, the financing platform enables many different landowners and tenant farmers of varying landholding sizes to participate in the woodland creation, rather than only prioritising the large estates. At a time when many farmers are facing financial difficulty, this model creates a reliable source of additional income through the sale of carbon credits and other ecosystem services. The financing platform also creates the scale needed to attract large-scale institutional investment needed to pay for upfront costs of woodland planting and delivery.
Once established, the South Downs woodland initiative will contribute significantly to the UK's journey to achieving Net Zero by using woodland creation to sequester greenhouse gases. To help ensure the quality and integrity of carbon credits generated, all will be verified by the government-backed Woodland Carbon code.
ELC has pledged £100,000 to this ambitious project as part of its commitment to sustainability, with the global company guaranteeing a further £300,000 to be spent on other nature restoration projects throughout the UK's National Parks over the next three years. 
Sue Fox, President of The Estée Lauder Companies UK & Ireland said
"We are very proud to continue our multi-year partnership with Revere and support pioneering nature restoration projects in the UK's beautiful National Parks. And with the South Downs being so close to our Petersfield office, we look forward to getting our staff out into the Park volunteering – the perfect way for them to see for themselves the work that we are supporting"
Trevor Beattie, Chief Executive of the South Downs National Park Authority, said: "Woodland makes up almost a quarter of the South Downs National Park and this incredible treescape provides vital habitats for so many plants and animals, as well as being a huge 'carbon sink' for the southeast of England.
"As part of our ReNature initiative, we want bigger, more joined up woodland habitats. This innovative partnership announced today is a significant step forward to achieving our long-term goal of reversing biodiversity decline and being more resilient to climate change."
Andrew Sutherland, Palladium Director of Nature-Based Solutions, added: "We have to restore our natural habitats—quickly and at scale—and private finance is essential. That's why Palladium brings together organisations like The Estée Lauder Companies UK & Ireland with authorities like UK National Parks, landowners, and communities to overcome the barriers that block large scale investment into nature restoration. The South Downs woodland creation platform will enable more landowners and farmers to participate in woodland creation, transforming the pace and scale of this work for years to come."
The funding of the South Downs Woodland platform is the second Revere innovation project supported by ELC, the first being a study into water quality in the Lake District.