What is the SAMM Project?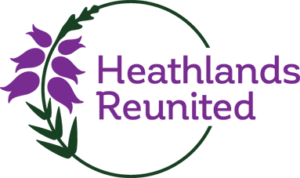 Reuniting communities with their local heathland
The "Heathlands Reunited Wealden Heath SAMM" project brings together 12 likeminded organisations to help protect and enhance the Shortheath Common Special Area of Conservation (SAC) and the Wealden Heath Special Protection Area (SPA).  These sites sit on the boundary of the South Downs National Park and the sites covered by the project are:
Bramshott Common
Broxhead Common
Kingsley Common
Longmoor Inclosure
Ludshott Common
Woolmer Forest
Shortheath Common
The project is funded by East Hampshire District Council (EHDC) and Whitehill Town Council (WTC) through Section 106 (S106) developer contributions.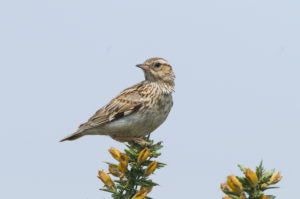 The Wealden Heath Special Protection Area (SPA) is home to many rare species and includes breeding sites for three threatened species of ground nesting birds: Dartford Warbler, European Nightjar and Woodlark. The project aims to mitigate the recreational impact from the Whitehill & Bordon Regeneration Project on the SAC and SPA areas.
Heathland for everyone
The project's aim is to protect the species found in the Special Protection Area and promote heathland that people know about, care about, and use responsibly and sustainably. Heathlands are often popular areas for recreation activities such as running, horse-riding, cycling and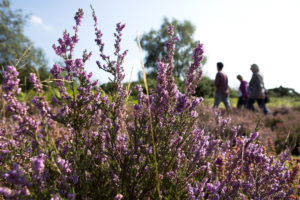 dog walking. The project will inform, engage and involve local communities to use their heathland in a responsible way and protect them for future generations.
For more information on how you can help, check our events and activities page.
What is a Special Area for Conservation (SAC) and a Special Protection Area (SPA)?
The European Union (EU) Directives on the conservation of natural assets and wild fauna and flora (92/43/EEC) and on the conservation of wild birds (2009/147/EC) establish the Natura 2000 ecological network, this includes SACs and SPAs respectively.  The Directives have been transposed into UK legislation through the Conservation of Habitats and Species Regulations 2017.
The Wealden Heath Phase II Special Protection Area (SPA), therefore, forms part of the Natura 2000 European-wide network of sites of international importance for nature conservation. The six areas of the Wealden Heath qualify as SPA areas as they are the breeding site for three protected bird species: Dartford warbler (Sylvia undata), European nightjar (Caprimulgus europaeus), and Woodlark (Lullula arborea).
Discover your local Alternative Natural Greenspaces:
Suitable Alternative Natural Greenspaces (SANGs) are created to absorb increased recreational pressure on the SPA from new development.
Bordon Inclosure SANG (over 23ha) and Hogmoor Inclosure SANG (over 54ha) were established in April 2016 and July 2017.  The latter is the third largest SANG in the UK and is the equivalent of 70 football pitches!
The SANGs are available for the community to use for a variety of recreational activities such as walking, dog walking, cycling, picnics and wildlife spotting.  The SANGs are for residents and visitors to sit and relax, and Hogmoor Inclosure even has its own café and children's  Natural play area. For more information see here:
On these pages, we'll be sharing news, events and information on how you can get involved with protecting the local heathland wildlife.
If you would like to find out more about events or arrange a guided walk or talk for your community group, please contact Heathlands@southdowns.gov.uk