Green Infrastructure: Keeping the South Downs and the South East healthy for people and nature
November 10, 2023
Nature is working invisibly, every day, to keep our environment healthy for both wildlife and people.
It provides us with clean water, fresh air, food to eat, and tranquil places to enjoy with our families.
That's why having green infrastructure in and around our communities, both inside and outside the National Park, is so vital, especially living in one of the most crowded parts of the UK.
It's one of the bedrocks of placemaking, fostering flourishing towns and Downs that include space for wildlife, as well as the "green lungs" that promote the health and well-being of everyone.
As we mark Green Infrastructure Week, we look at what the term means, what the South Downs National Park Authority has been doing to encourage more of it, and how people can get involved.
What is green infrastructure?
Green infrastructure is a network of natural spaces that deliver benefits for people and the planet. This short film explains more what is meant by green infrastructure.
What kinds of green infrastructure are there?
This infographic by Natural England paints a useful picture of examples of green infrastructure.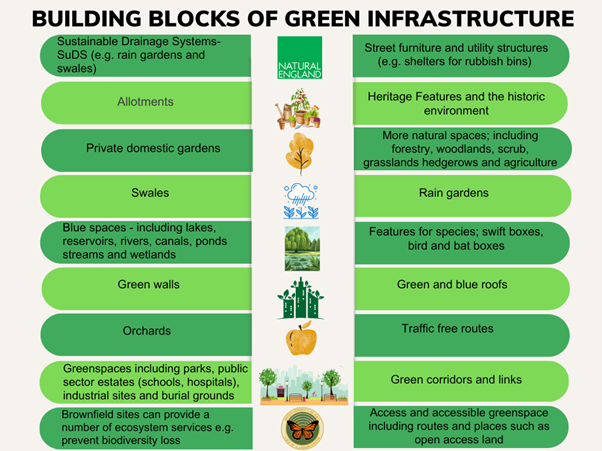 Let's not also forget the importance of "blue infrastructure", which includes dew ponds, streams rivers, storm water provision, wetlands, coastlines and marine environments – particularly important in the South Downs and its surrounds as you're never far away from a body of water!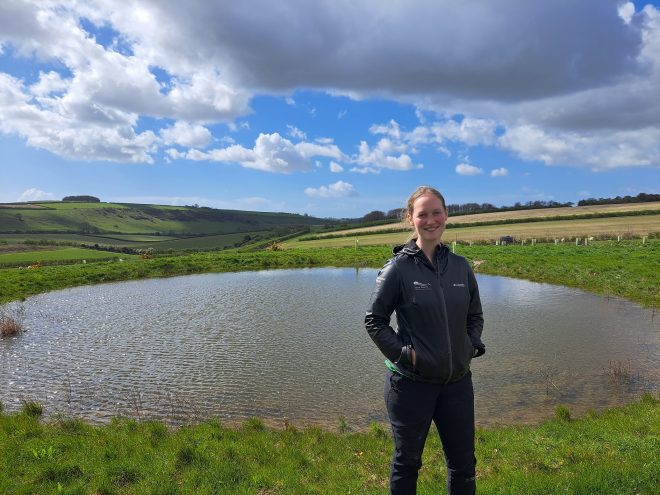 Why is green infrastructure so important?
A multitude of reasons, a key one that the health and well-being of people living in any area is linked to the quality of their environment. People need access to nature and the benefits of a green environment. New development must build communities, not just housing.
Connection to nature is vital for people's mental and physical wellness.
Creating more green infrastructure can help tackle biodiversity loss, which has reached a critical stage as recently outlined in the State of Nature report. With one in six species in danger of being lost altogether in Britain, the need to protect and enhance our existing green spaces, as well as create new habitats, has never been more pressing.
Green infrastructure builds climate resilience. Housing growth and transport will continue to make demands on the South Downs landscape and natural resources, particularly water.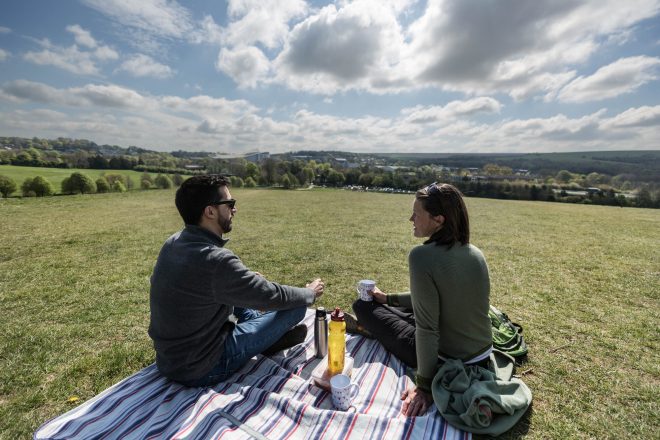 Creating a healthier natural environment will also bring economic benefits for the region, including reducing financial burden on health and social care, increasing visitor spending and increased desirability as a location for business.
A crucial point is that biodiversity loss and climate change do not recognise administrative boundaries. A regional response to biodiversity loss and climate change is needed if we are to ensure nature everywhere, for everyone, and to provide nature-based solutions to climate changes that the National Park and the wider South East is already experiencing.
What is the National Park doing to encourage more green infrastructure?
People and Nature Network (PANN)
Launched four years ago, this groundbreaking strategy lays out our collective long-term ambition to promote more green infrastructure. It could be creating a wildflower meadow in an urban area, improving the greenery along a canal, laying a hedgerow or planting more street trees.
We have this amazing natural space in the National Park, but its benefits don't stop at the designation boundary. This network plan aims to make space for nature in urban as well as rural environments and create links with the National Park, which already has over 1,000 nature conservation areas.
The detailed masterplan has been produced in partnership with a range of organisations, including dozens of local authorities across Hampshire and Sussex, the RSPB, Wildlife Trusts, The Woodland Trust, English Heritage and the Environment Agency.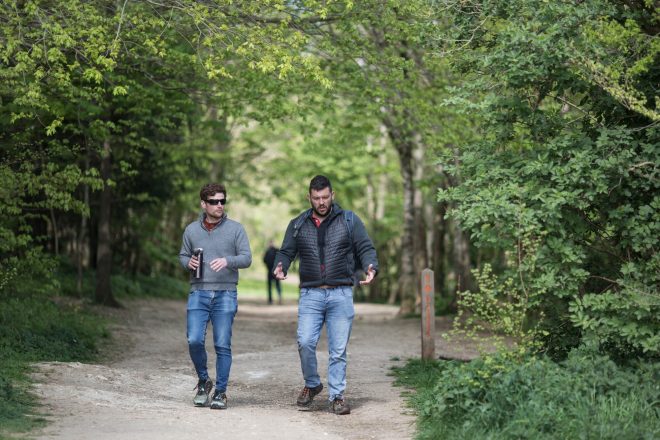 Twelve areas across the region – primarily on the edge or beyond the National Park's boundaries –  have been identified as key areas for long-term investment in more green infrastructure.
A key point is ensuring connectivity of green infrastructure as habitats generally don't thrive in isolation. It's vital that a network of green spaces is created.
The partnership is working towards its goals through a number of avenues, including encouraging green infrastructure in emerging planning policy, seeking more local and national funding and developing more community projects that help the environment. The National Park's ReNature initiative, which is looking to create 13,000 hectares of new habitat for wildlife, is one of several schemes that sits under the umbrella of PANN.
A key ask is that local authorities in and around the National Park have consideration for PANN and its ambitions in their emerging policies. PANN is a relevant part of the evidence base that can contribute towards the impending development of the Local Nature Recovery Strategies in Hampshire, West Sussex and East Sussex with Brighton and Hove.
South Downs Local Plan
The adopted South Downs Local Plan – which is the blueprint for all development in the National Park – places a heavy emphasis on green infrastructure and creating healthy and sustainable communities. Whether it be planting new trees, creating green open spaces in new developments, conserving a village green or protecting Sites of Special Scientific Interest, our Local Plan creates such a strong foundation to conserving, enhancing and creating green infrastructure.
Biodiversity Net Gain provision
From January next year developers in England will be required to deliver 10% "Biodiversity Net Gain" when building new housing, industrial or commercial developments. This means by law they must deliver a net positive for the local environment, for example by creating new habitats and green spaces.
In the South Downs National Park there has been a 36% average Biodiversity Net Gain on the largest scale development sites in 2022/23, through applying Local Plan policies around Ecosystems Services and Biodiversity Net Gain.
This year the National Park Authority also launched its "ReNature Credits" scheme, which bring together developers and landowners to unlock private finance streams that deliver multiple benefits for nature recovery, including restoring lost habitats, woodland creation and wildflower meadows.
A landmark agreement was recently signed between the National Park Authority and the Iford Estate, East Sussex, marking the first step towards creating large new areas of habitat for wildlife – ultimately all areas of green infrastructure.
The large swathe of downland is the first to appear on the National Park Authority's register of land that is formally dedicated for "Biodiversity Net Gain" (BNG) provision.
Nature recovery work and the work of our ranger teams and volunteers
Creating green infrastructure can be large or small. Day in, day out the National Park's ranger teams and volunteers are working with landowners across the South Downs to protect and enhance green spaces, whether it be restoring chalk grassland, managing woodlands or helping to manage river banks, to name three examples.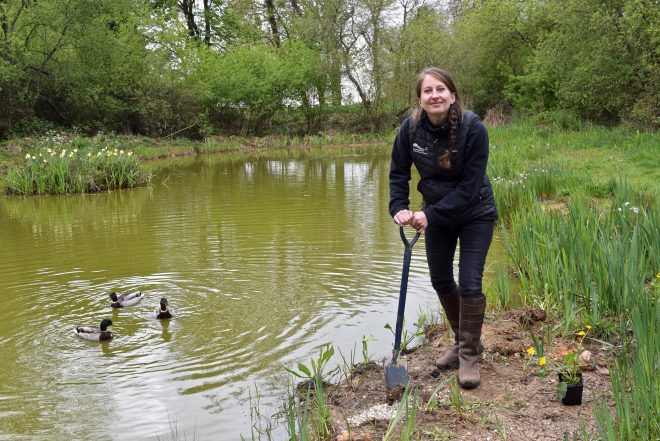 The funding power of the South Downs National Park Trust, also has a big part to play in green infrastructure. Through Trees for the Downs, over 40,000 new trees have been planted in the past five years, which will ultimately turn into the woodlands of the future. Pounds for Ponds is also helping to restore and create around 100 dew ponds in the National Park, establishing new habitats for amphibians and insects. The ReNature initiative has already helped to create over 400 hectares of new wildlife habitat – or almost 1,000 football pitches – such as new ponds, grasslands and wildflower meadows.
Partnership working
Partnerships are the lynchpin of the Authority's work across nature recovery and climate action.
The National Park Authority is involved in a number of partnerships that fall under the scope of green infrastructure. One example is Changing Chalk, which is looking to ensure that over 800ha of land will be newly managed to benefit nature, including 90ha of golf course returned to species-rich chalk downland and 40 sites returned to active grazing. Five historic dew ponds will also be restored.
We've also part-funded the Sussex Green Spaces Project, which is essentially a toolkit for local authorities, town and parish council to better understand the potential of green spaces to deliver more benefits for nature and people. This is part of the work by the Sussex Local Nature Partnership Health and Wellbeing Group.
How can I get involved?
The Authority is keen to work with landowners, farmers, local authorities, town and parish councils, charities and community groups to improve our existing green spaces and create new ones.
A good place to start is looking at The People and Nature Network and understanding some of our long-term goals.
You could also support one of many initiatives run by the South Downs National Park Trust around restoring habitats. Find out more here.