Getting here
First catch your bus or train, walk or cycle to Petersfield.
If you need to drive to Petersfield, give your car a rest on arrival and enjoy exploring the area car-free.
Train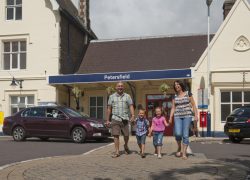 Petersfield Station is less than a half a mile from the main shopping area.
From London Waterloo at regular intervals each hour, a direct train takes just over an hour.
From Portsmouth Harbour at regular intervals each hour and takes a half hour.
Bus
Regular services link Petersfield to towns and villages in the South Downs.
Traveline South East can help you plan your public transport journey.
Cycle or Walk
National Trail  – The South Downs Way crosses south of Petersfield and meets National Cycle Network route 22, The Shipwrights Way, and The Hangers Way so you can reach the town centre on foot or cycle.
REMEMBER
Look up public transport timetables online before setting off on your journey and double-check weekend and Bank Holiday schedules.