Family Adventures at the Country Park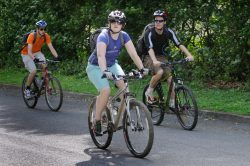 Walk, cycle or hop on the number 37 bus and enjoy a fun-filled family adventure at Queen Elizabeth Country Park.
Follow the Dragon of Butser Hill children's interactive walk or cycle a permissive mountain bike trail. Wander the clearly marked walking trails and discover wild orchids and 38 species of butterfly.
Let older children loose in the Adventure Play Trail and under 8s in the animal themed Tots Play Area. Book in advance for an education session to search for fascinating bugs and woodland mini-beasts, or be a ranger and help manage the Park.
After all this activity treat yourself to delicious homemade, locally-sourced food at the Visitor Centre café.
On your return to Petersfield, cool off at Petersfield Open Air Swimming Pool, a heated outdoor pool with a toddlers paddling pool open in summertime.
Getting around
Distance
7 mile return trail or 37 bus from Petersfield railway station
Duration
Half day, can be extended to full day
Grade
ENERGETIC – possible loose, uneven and muddy surface with gates, stiles and steeper inclines.
Directions – By bus
At stop S outside Petersfield railway station, Stagecoach bus service 37 leaves hourly and takes just 10 minutes. Let the driver know you want to get off at Queen Elizabeth County Park. No bus service on Sundays or public holidays.
Directions – Walk or Cycle

Head straight from Petersfield railway station along Lavant Street and follow the signs for the The Shipwrights along National Cycle Network route 22, to Queen Elizabeth Country Park.
Half-way along 'The Causeway' out of Petersfield, The Shipwrights Way/NCN 22 veers left, but continue straight to pick up the surfaced traffic-free pedestrian and cycle route NCN 222 that follows the A3 to the Country Park.

Alternatively
For a more scenic route, follow the Hangers Way (for walkers) or the Shipwright's Way (for riders and walkers) and you can join the South Downs Way. The route is flat to Buriton, then climbs steeply onto the South Downs.
Useful information
The Shipwrights Way is a long-distance route that starts at Alice Holt Forest near Farnham and runs down across the South Downs to Portsmouth. The name reflects the journey the oak trees took from the forest to dockyards such as Portsmouth for medieval shipbuilding. The section from Petersfield and the new traffic free route along the A3 to Queen Elizabeth County Park is a good route for pushchairs and mobility vehicles.
Pop into the Visitor Information Centre in the County Library on The Square for more information on things to do in and around Petersfield.
EXTEND YOUR VISIT
Extend your visit and spend a day exploring Butser Ancient Farm, five miles south of Petersfield near Chalton, where you can travel back in time and explore what life was like in ancient Britain. Visit ancient buildings based on real sites from the Stone Age, Iron Age, Roman and Saxon era. Meet rare animal breeds including four-horned Iron Age Sheep, and join in the hands-on activities for children for a unique family experience.
Useful Links