Literary Trails
West Sussex Literary Trail
Virginia Woolf was one of many writers who loved to walk on the South Downs, where the sense of space and ever-changing views brought her both inspiration and solace. Other local writers are the inspiration for other literary trails.
Edward Thomas Literary Trail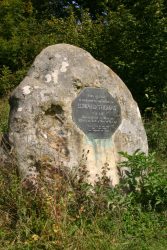 Thomas, whom former poet laureate Ted Hughes called "the father of us all", was best known as a war poet. However for the two decades before the war he walked and wrote about the "frail tracks" and "long white roads" of the South Downs.
Today, the literary trail around his home village of Steep, near Petersfield in Hampshire takes hikers up to one of the most beautiful and distinctive views in the National Park, the densely forested hillsides called the Hangers. As you puff your way to the top you pass a memorial stone laid in 1937 by the then Poet Laureate John Masefield. Quoting Thomas, its inscription is a sort of walkers' prayer: "And I rose up and knew I was tired and I continued my journey."