Gatwick gives South Downs £60,000 to help open new disabled access routes in National Park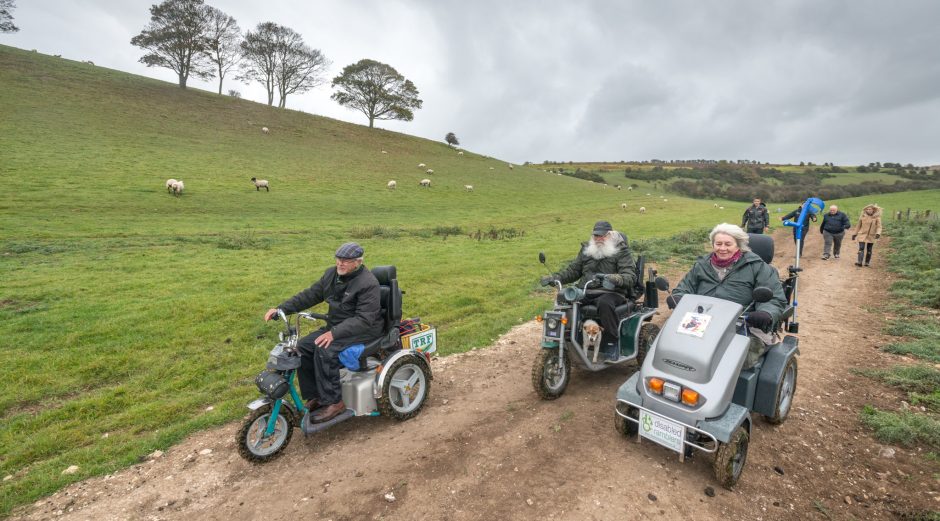 October 30, 2018
The Disabled Ramblers officially opened the first of a series of new 'Miles without Stiles' routes in the South Downs National Park on Friday 26 October made possible thanks to £60,000 support from Gatwick Airport.
The South Downs National Park Authority's 'Miles without Stiles' routes allow people to explore iconic scenery without worrying about obstacles such as steps, stiles or steep gradients. In addition to being accessible for wheelchair users, the routes are also suitable for families with pushchairs, the elderly and people with visual impairment.
The first route to be modified was proposed by the Disabled Ramblers and is a 10km (6 mile) circular route taking in Jack & Jill Windmills and Ditchling Beacon. Gatwick's sponsorship extends across the next three years and is helping to fund work to create new routes, including: the removal of stiles, replacing unsuitable gates, resurfacing of rough tracks and ensuring trail information is accessible for all.
"We came up with the idea for this route at the end of 2017, when we were out reccying a group ramble," says Val Rawlings, regional representative for the Disabled Ramblers. "Obstacles like a log step and tricky gates might seem small to other people but made it off-limits to us so it's exciting to be able to finally explore it. Now we're looking forward to bringing a whole group of Disabled Ramblers here on one of our rambles into the South Downs National Park next year."
The sponsorship forms part of Gatwick's wider community engagement programme and specifically ties in with the airport's focus on accessibility.
"We are delighted to be supporting this incredibly important scheme, which will open up the beauty of the South Downs for everyone to enjoy, regardless of age or ability," says Melanie Wrightson, Gatwick Airport Community Engagement Manager.
"Accessibility is a key focus for the airport and 'Miles Without Stiles' forms part of Gatwick's wider community engagement programme to ensure the same opportunities are available for all to experience."
Allison Thorpe, who leads on access & recreation for the South Downs National Park Authority, continues: "As one of England's most accessible National Parks the South Downs really is here for everyone and the new routes will appeal in particular to people using off-road mobility scooters and families with buggies or pushchairs. Thank you to Gatwick Airport for helping us enable even more people to experience the physical and mental benefits of getting closer to nature."
Gatwick continues to engage with a broad range of disability groups to help ensure the airport makes it services accessible for everyone and continues its journey to becoming the most accessible airport in the UK.
Try the route
Want to try out the first new route for yourself? Find it for free on the Viewranger app (leaflet coming soon)

Quick Links
Learn, Enjoy & Care For
National Park Authority
Planning