Secrets of the Heath 2017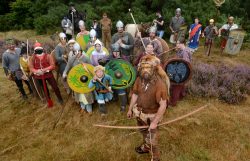 02 September 2017 to 03 September 2017
Booking
Just Turn Up
Event Cost
FREE
Details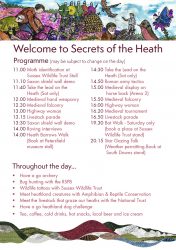 This FREE community event will see stalls lining the heath with interactive educational activities for the whole family to get involved with.

Meet the cows and sheep that graze the heath to preserve this rare landscape and the snakes and lizards that love the sandy soil.
Come face to face with pre-historic characters who previously lived and worked on the heaths, there is even the chance to test out a reconstruction of a Bronze Age log boat, have a go at a Roman archery or a Saxon sword fight.
Secrets of the Heath is about sharing the unknown history of South Downs heathland and what makes these rare and beautiful places so special. Heaths are very rare habitats rich in wildlife and they're also a fantastic open space for families to explore. But many people don't realise that they're under threat and would disappear completely if they aren't actively managed.
Don't leave your purse at home as refreshments, including a bar, stalls with hot food and ice cream's will be there on the day.
So come and join us over the weekend to learn about rare heathland wildlife, the history of our heaths and how you can #HelpTheHeaths through our Heathlands Reunited Project.
We're encouraging locals to leave their cars at home and walk to site to join us for a full back to nature day.
Secrets of the Heath 2017 – Programme
Location Details
Location
Petersfield Heath
Organiser Details
Organiser's Email