Secrets of the Heath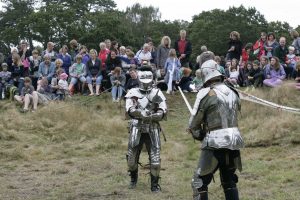 08 September 2018 to 09 September 2018
11.00am to 5.00pm
Booking
JUST TURN UP!
Event Cost
FREE ENTRY
Details
Secrets of the Heath is about sharing the unknown history of South Downs heathland and what makes these rare and beautiful places so special.
Heaths are very rare habitats rich in wildlife and they're also a fantastic open space for families to explore. But many people don't realise that they're under threat and would disappear completely if they aren't actively managed. This event is a chance for people to come face-to-face with heathland characters from pre-historic to present times. Come and find out how people have lived and worked the heath over thousands of years and how you can play your part today.
Throughout the day there will be a programme of displays and re-enactments in the arena including:
•Roman soldiers
•Medieval warriors
•Falconry
•The highway woman
In addition there will be many stalls and demonstrations from making Stone Age flint tools and birch brooms to meeting the snakes and lizards that inhabit our heathland and the cows and sheep that graze it.
Other highlights will include a bat walk on Saturday evening, have a go archery and even the family dog can get involved, by trying our countryside dog ability course..
Hot snacks, served by the local scout group, will be available to buy along with local beer and ice cream.
This event was made possible thanks to our Heritage Lottery Funded project Heathlands Reunited. Find out more about the project here or search for #HelpTheHeaths on Facebook and Twitter.
#HLFSupported
Location Details
Location
The event will take place on Petersfield Heath which is located between the B2146 and the B1299 on the southern edge of Petersfield.
Postcode
GU31 4HS
Directions
Petersfield is on the eastern edge of Hampshire close to the A3 between Horndean and Bordon.
Organiser Details
Organiser's Name
Katy Sherman
Organiser's Website
http://www.southdowns.gov.uk/heathlands-reunited
Organiser's Email
Organiser's Telephone