An ethereal dawn wins South Downs photo competition 18/19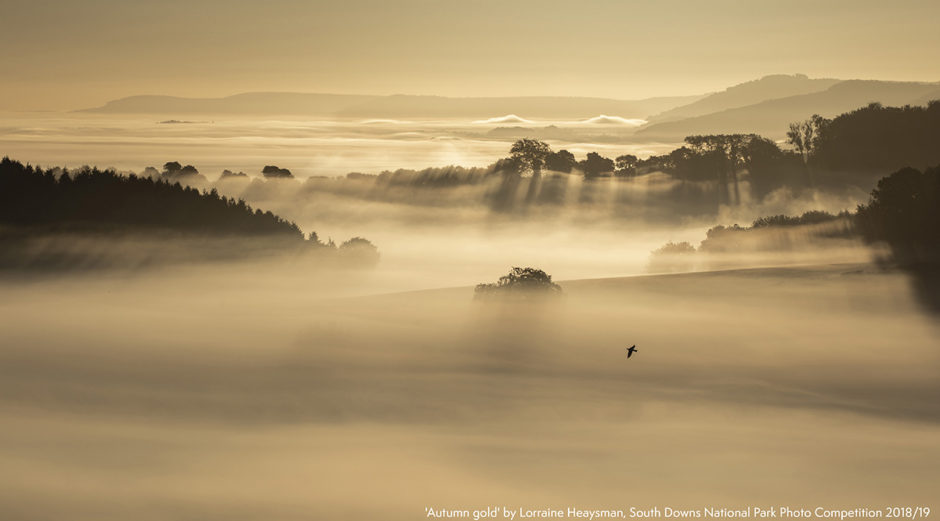 January 2, 2019
Early morning light casts shadows across an ethereal autumn mist, witnessed only by rolling hills and one small bird in Lorraine Heaysman's winning image in the South Downs National Park photo competition 2018-19. Lorraine from Worthing in West Sussex, wins £250, for her picture 'Autumn gold' – taken from the hills above Upwaltham.
"Lorraine's photo has such emotional impact and really showcases the South Downs National Park as a world class destination," says Competition judge Steve Watkins, editor of Outdoor Photography Magazine. The competition was phenomenally tough this year but Lorraine's ethereal photo, which completely fits this year's theme 'Perfectly Seasoned', is a well-deserved winner."
Speaking about her win Lorraine said: "Mornings have always been my favourite time of the day and I spend so much time searching for these conditions – mist can be fickle! I am bowled over that the judges liked my image enough for it to win. Moments like these on a hill top are filled with beauty, peace and tranquillity and my heart skips a beat whenever I walk along the downs and see scenes like this."
Second prize goes to Dominic Vacher for his picture 'Race against time' taken from Tegdown Hill north of Brighton during last summer's heatwave. The last light hits the dust of a farmer racing to bring his harvest home as the evening shadows lengthen. Dominic, from Brighton, wins £150.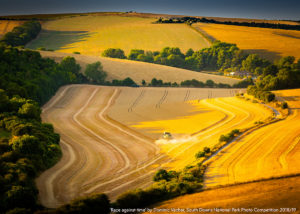 "I love the pace, lines and colours of Dominic's photo," says competition judge Finn Hopson, local photographer and owner of Brighton Photography Gallery. "This is the life of a farmer, out working in the National Park in 2018 and yet it captures the feeling of those old war time photos designed to remind people of what a special place the South Downs is."
Dominic Vacher said of his photograph: "There had been a long hot and dry spell for weeks but the forecast predicted a dramatic change with stormy weather imminent. The farmer was clearly taking heed and working frantically to get his crops harvested before the weather turned. I returned the next day hoping to find a classic scene with the field scattered with bales but alas, the farmer had come back early and scooped them up and off to storage, away from the heavy rain."
Third prize has been won by Clive Blott for his show-stopping portrait of a cow taken on a very cold January morning near Midhurst. Clive, from Easebourne, has won £50 for his photo 'Freshly frozen'.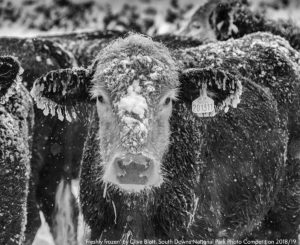 "The textures in Clive's photo are wonderful," says award-winning photographer and competition judge Rachael Talibart. "He has made this cow, with its frozen eyelashes, ears hung with icicles and snow-covered nose, look heroic – like a polar explorer."
Clive Blott said of his photograph: "I was walking our dog in the snow and found these cows sheltering under the trees. There had been a lot of snow that week – great fun for those, like me, that didn't have to travel to work and the perfect opportunity for me to walk everywhere with my camera close at hand. Photography has been a hobby of mine for a many years and this will definitely encourage me to enter more competitions in the future."
The three winning images together with three highly commended images will now go forward for will join three highly commended photos to go forward for the people's choice vote with a prize of £100. These are 'Amongst the beech trees' by Jonathan Peacock, 'Winter on Butser' by Ron De'Ath, and 'Coastguard Cottages at sunrise' by Zoltan Kecskes.
Vote for your favourite photo here.
Quick Links
Learn, Enjoy & Care For
National Park Authority
Planning