Celebrate English Wine Week across the South Downs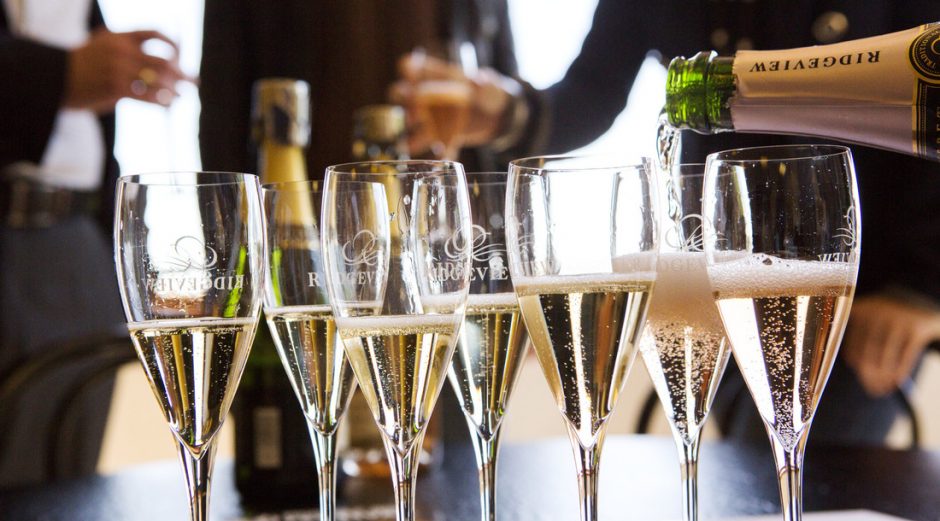 May 2, 2017
From east to west across the South Downs National Park, nestling into the sun-soaked slopes and stunning landscapes, thriving vineyards produce some of England's finest award-winning sparkling and white wines. It's the perfect place to celebrate English Wine Week – Saturday 27 May and Sunday 4 June.
These English vineyards owe their success to the chalky soils and fine climate providing a unique 'flavour of the South Downs'. In fact, grapes have been growing in the area, which is very similar to the Champagne region in France, since Roman times.
Hambledon Vineyard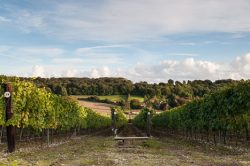 England's oldest commercial vineyard, on the western edges of the South Downs National Park, is Hambledon Vineyard near Hambledon village, which is also the cradle of cricket. The original home of Hambledon Cricket Club at Broad-Halfpenny Down can be seen across the valley from the vineyard.
Did you know?
Hambledon Vineyard is the only all gravity fed winery in the UK.
Their chalk is the same Upper Cretaceous chalk band that goes under the English channel and pops up in Picardy's Champagne region.
Head winemaker was the 'Chef de Caves' at a top ten Champagne house for 23 years.
The first wine ever made here beat 11 other sparkling wines in a blind tasting organised by cool wine mag "Noble Rot". Jancis Robinson, Jamie Goode and Neal Martin were among the tasters. Hambledon came 1st and Nyetimber, another South Downs wine, came 2nd, while Pol Roger came 3rd, Taittinger came 4th and Veuve Clicquot came 11th!
Hambledon Vineyard,
Hambledon,
Hampshire,
PO7 4RY
Tel: 02392 632358; hambledonvineyard.co.uk
Rathfinney Wine Estate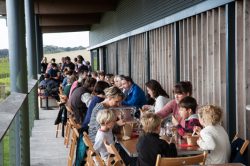 The biggest South Downs vineyard and one of the youngest is Rathfinney Wine Estate, on the eastern fringes of the South Downs National Park. Rathfinny is the original farm name, where the Finny element is taken from the owners name dating back to 1820's and 'Rath' is Celtic in origin, meaning a mound or ditch around a settlement.
Did you know?
 So far they've planted 180 acres or 450,000 vines – this is about half of what they have planned!
Chardonnay, pinot noir and pinot meunier are planted for their sparkling wine.
Their still wine is under the label Cradle Valley.
Last year's vintage was named Hobbs Hawth which is a field where the original farmhouse stood. Hobb is an old English word for the Devil.
They've planted around 20,000 trees.
The Flint Barns on site accommodates around 30 people and all the rooms are named after local fields or locations on the Estate.
The vineyard was heavily used for practice for the DDay beach landings, the gentle south facing slopes were ideal replicas of the French beaches. They are now ideal for grapes to gain maximum sunlight.
All of the vines are hand pruned and hand harvested.
There are four bridleways running across the Estate and they've opened up a permissive footpath as well called the Rathfinny Trail.
At full capacity they will be producing 100,000 cases of Sussex sparkling wine.
The shop, the Gun Room, does not sell guns! It was reported to house a large canon many years ago and since then has been many things including a tannery – hence the replication of the oak boarding on the top floor. You can also visit the Alfriston Heritage Centre here.
This year Rathfinney released a gin made from their grapes called Seven Sisters after the cliffs which are formed from chalk and flint. Geology is vital to the grapes as it gives them their uniqueness.
A PhD study is being undertaken in their vineyard to assess which variety and mix of flowers are best to sow in between the vines to attract wildlife, which will reduce pests, letting nature do the work rather than using sprays. For example the aim is to attract parasitic wasps which will feed off caterpillars. The project is being overseen by Prof Dave Goulson.
Their vineyard manager has been awarded a Nuffield Scholarship to research viticulture for the UK.
Rathfinny Wine Estate,
Alfriston,
East Sussex
BN26 5TU
Tel: +44 (0)1323 871 031; rathfinneyestate.com
More information about English Wine Week
Vineyards and wineries across the South Downs will be celebrating English Wine Week 2017 by hosting tours, tastings and masterclasses, as well as opening their cellar doors to celebrate the best of English wine.
Enjoy sampling the fantastic range of award-winning South Downs sparking and white wines at events such as an English Wine Tour and Diner with Jilly Goulden at Bluebell Vineyard, Free Wine Tastings at Bolney Wine Estate, Around the World in Wines Masterclass at Bolney Wine Estate, Ridgeview Wine Garden Launch Party, Hambledon Vineyard Bottling the Bubbles Tour, and Vineyard Tours at Ridgeview Wine Estate. Many restaurants and pubs across the National Park serve locally produced wine so take the opportunity to try something new wherever you are – a very pleasant surprise awaits you.
Details of these and other English Wine Week events across the South Downs can be found at englishwineproducers.co.uk/news/eww
Quick Links
Learn, Enjoy & Care For
National Park Authority
Planning