What do Volunteer Rangers do?
To be a volunteer ranger you need to be 18 or over. As a general rule, we ask you for a minimum commitment of 12 days volunteering each year. This may be less for Rights of Way Volunteers or South Downs Way Volunteer Wardens.
There are several ways in which you can get involved in the VRS:
Working outdoors on practical conservation work and access improvement
Monitoring the condition of the South Downs Way National Trail, or other access in the Area
Working on office-based projects
There may be opportunities for help with work in our Area Offices or Headquarters at any time. Outdoor Rangers normally work in their local area, as part of mid-week and/or weekend working groups. We provide transport for these outdoor groups from local pick-up points. Training, tools and equipment are always provided.
We aim to make the work you do as a Volunteer Ranger engaging, interesting and satisfying.
Outdoor Volunteer Rangers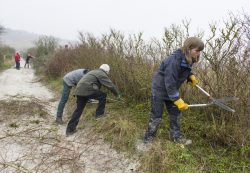 Rangers carry out both practical conservation and public relations work; the balance varies slightly according to the area, the season and your areas of expertise. Rangers also provide advice and guidance to visitors.
Typical tasks:
Chalk grassland and Heathland conservation
Scrub Clearance
Woodland Management
Hedge Laying
Improving public access
Surveys of flora and fauna
Rangers working at the weekend agree a rota for their work, whilst mid-week groups operate a more flexible system. Rangers should bring along food and drink for their day. All tools and equipment are provided.
Training
You will receive 'on-the-job' training from fully skilled team leaders, as well as classroom-based training course that all recruits are asked to undertake. Courses are held annually and provide a broad introduction to countryside management and conservation.
Training available to Volunteer Rangers includes:
Introduction to Countryside Management & countryside organisations
Practical Conservation
Countryside legislation
Public access to the countryside
Geography, History and Ecology of the Downs
Incident Handling/ Public Relations skills
Health and Safety
After you have completed the training course, you will be provided with appropriate clothing, as well as further training opportunities.
Access Volunteers and South Downs Way Volunteer Wardens
Rangers are responsible for monitoring the condition of footpaths, bridleways statutory 'Open Access' areas along a specific trail, or on a section of the South Downs Way. Once or twice a year volunteers will be asked to report on any problems they find during their surveys. Full training will be provided.
Office Volunteers
There are a variety of opportunities in our Area offices and Headquarters. Help with the organisation, management and development of the VRS is always welcome. In addition, there are often projects that can be carried out by volunteers working with full-time staff. The administration of a countryside organisation is an increasingly busy job and help here is also extremely useful. Training will be provided as appropriate.