Take the Lead on the Heath
With a dog taken on 51% of all visits to England's countryside and urban green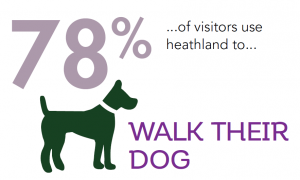 spaces we need your help to spread the word about Take the Lead.
The National Park is a beautiful matrix of habitats which roll into one another. So to help you and your dog get the most out of your daily walks on Heathland and to avoid any unplanned dramas, we have put together some top tips for you to follow.  
Our top tips:
Keep dogs on the lead around livestock
Keep dogs on a lead and stick to paths during ground nesting bird season 1 March-15 September
Do not enter Ministry of Defence (MOD) danger areas when the red flags are flying – find an alternative route
Always bag and bin your dog's poo
Why?
Grazing  is an important management technique used on heathlands sites. There are 4 main breeds of cow you may see out on the heath
British White
Shetlands
Sussex
They are bred very selectively and undergo 'test' before they are put out to graze on the heaths. Their temperaments are tested to check they are 'wild' enough that they won't approach people but tame enough to recognise people and dogs are not a threat.
Sticking to the path during ground nesting bird season not only protects some of our rarest ground nesting birds  but keeping your dog in sight may also prevent them stumbling across an adder or picking up potentially dangerous military debris.
Usually recognisable by the signage MOD danger areas are off limits at certain times. Do not enter the danger areas when the red flags are flying. Training manoeuvers could include larger machinery and sometimes even live firing. It's not always obvious that something is going on as soldiers are camouflaged, so don't be tempted to jump the fence.  You could give away the other sides positioning and cause the whole military training exercise to come to a halt.There are plenty of alternative sites you can visit without risking your own, and your dog's life.
When the flags are down you are free to enter the danger zones and use the paths. When training in these areas soldiers will crouch, crawl and roll on the floor. Let's share this space responsibly so it remains open for future generations to enjoy and help make sure the soldiers don't get covered in dog do.
Always bag and bin your dog poo. Dog poo contains worms and germs. It is different to cow pat, sheep and rabbit poo as dogs are carnivores. If left to decompose, parasites in the poo will enter the soil which can cause worms and diseases to be passed onto humans and even livestock causing serious illness. This also has a detrimental effect on local water tables, contaminating lakes, ponds and drinking water. It is not a good fertiliser and should always be picked up.