Budding artists are "Truleigh inspired" by beauty of South Downs
November 2, 2020
The breathtaking South Downs has inspired many forms of artistry over the centuries, from poetry to world-famous oil paintings.
Now a beautiful collection of sculptures, wood carvings and wood paintings have been created, thanks to a community project called "Truleigh Inspired".
The South Downs National Park Authority teamed up with Creative Waves, a community arts organisation based in Worthing and Adur, to take small groups of people up to Truleigh Hill to help boost their mental health and well-being.
After enjoying short walks at the beauty spot to gain inspiration, the budding artists headed back to a studio in Worthing to let their imaginations run wild, creating weird and wonderful creations using natural materials.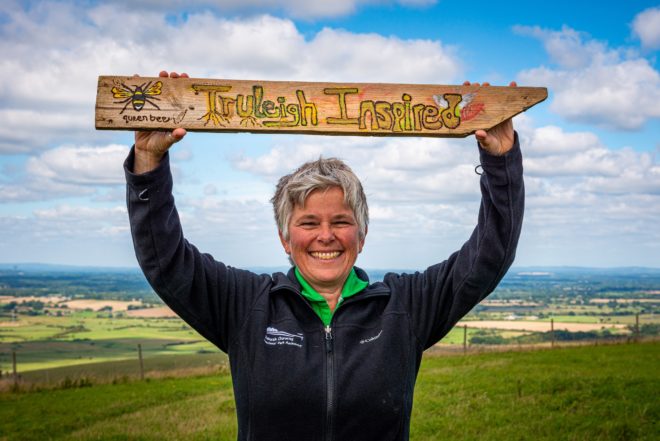 It was hoped to have a celebration at Truleigh Hill, with all the participants displaying their artwork, but the pandemic lockdown meant this was not possible.
Some of the artwork has, however, been featured at Worthing Pier and the National Park's Health and Wellbeing Officer, Kate Drake, recently ventured back to Truleigh Hill to look at all the artwork and reflect on the success of the project.
Kate said: "Truly inspiring is certainly a good way to sum up this initiative!
"The artwork really is beautiful and it's interesting to see how everyone takes different inspiration from the South Downs.
"These kind of community projects focusing on the health and well-being benefits of National Parks are part of a growing area of our work. We're in a very challenging time for many people and this pandemic has highlighted the profound need people have for their local green space, so we'll be looking to help deliver similar projects as we move into 2021."
One of the participants, Daniela, said: "It was one of the most enjoyable projects I have taken part in –  a chance to discover, explore and reflect on a part of the South Downs I would not normally have access to, and did not know before, and the opportunity to regularly meet and work with a group of interesting, inspiring and lovely people.
"The project has had a wholly positive impact personally – from the fresh-air benefits of spending more time outdoors, to talking and laughing with others, to experimenting freely with materials and 'playing' with ideas. It has made me more aware of the landscape of my local environment and given me the impetus to spend more time in the South Downs. I believe the project also made us really feel part of the environment of the Downs and has given us a sense of being custodians of the landscape."
Another participant, Nora, added: "The project has led to a new found theme of work, new friends and continued enthusiasm for 'up on the Downs'.
"Access to the outdoors on South Downs in safe ways is invaluable, life-affirming and enhancing."
Creative Waves is run by Vanessa Breen and Nadia Chalk, both professional artists and art educators, who work with people across the community dealing with a wide spectrum of issues, including loneliness, anxiety and depression.
Vanessa said: "I saw the confidence of all the participants really blossom from the start to the finish of the project.
"Some days, you would start and people might be feeling a bit low. But after being up on the South Downs with all the fresh air and views, it really did change people's outlook in a very positive way.
"What was amazing is how many of the participants hadn't been to Truleigh Hill before, even though it was on their doorstep.
"After the project, many of them have been back and taken their families up on the Downs. We're so lucky to have the South Downs near where we live – it's a great place to escape and recharge your batteries."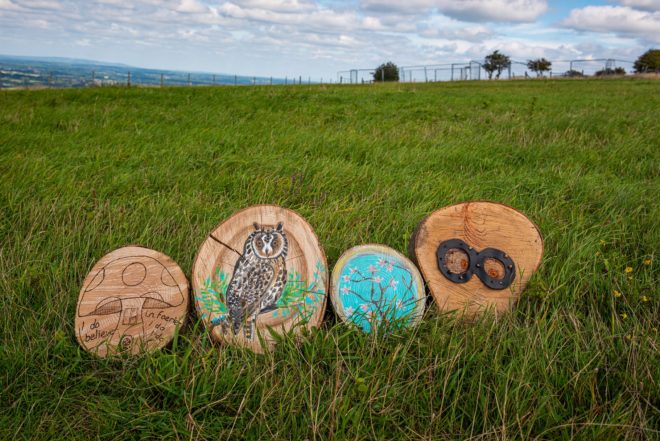 Pictures: Health and Wellbeing Officer Kate Drake and artwork at Truleigh Hill. Credit Alex Bamford/SDNPA