Best winter walks in West Sussex
November 15, 2022
Christmas just isn't Christmas without a few wintry walks.
Whether you're looking to unwind before the big day or looking for a few family-friendly walks with relatives and loved ones between Christmas and the new year, here's our pick of the best winter walks in West Sussex.
Amberley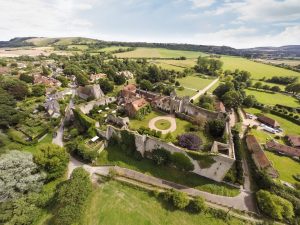 Amberley is a chocolate box village with many old buildings, thatched cottages, a castle (now a hotel and restaurant), a church, two pubs and quaint shop.
It also benefits from having a mainline rail way station just yards from the South Downs Way.
A walk up Amberley Mount presents fantastic views of the Arun Valley, where you can clearly see how the flowing river Arun carved out is channel through the chalk.
On particularly wet days, you could be forgiven for thinking you've been transported to the Lake District as the valley performs its natural function as a flood plain, as rain water submerges the fields.
You can check out our Amberley walking leaflet offering two circular walks.
There's a 10 mile walk taking in the hidden village of Burpham, home to the gorgeous George pub, perfect as a mid-way rest point where you can recover in front of the fire.
If 10 miles is a bit much for you, there's a shorter 2.5 mile loop around Amberley village, providing you with views over Amberley Brooks before bringing you back to the railway station.
If looking for a cosy place for a drink and something to eat, both The Bridge Inn and Black Horse offer a warm welcome and roaring fire.
Alternatively, Riverside tearoom offers quality local food and drink, as well as afternoon teas for hungry hikers.
Arundel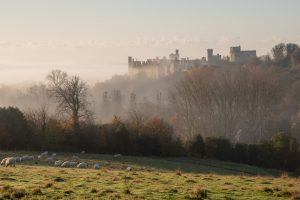 Arundel has it all.
A mainline train station. A beautiful market town with more than a dozen cafes, pubs and restaurants. A tranquil lake. A heated lido (which reopens for festive swims over Christmas). And, a fairytale castle.
Christmas is a magical time in Arundel as real Christmas trees illuminate the high street every December and the traditional tall Christmas tree standing firm in the market square.
With festive farmers markets, carol concerts in the Cathedral and plenty of independent shops to buy seasonal gifts, Arundel is the perfect place to experience Christmas in Sussex.
Visit Arundel has lots of information about all of the upcoming festive events and activities taking place this Christmas.
Our walking leaflet offers a couple of different options. You could opt for the shorter 4 mile walk around Swanbourne Lake and the River Arun or go for a longer 7 mile walk through Arundel Park and South Stoke, taking in the Monarch's Way – the supposed route taken by Charles II on his escape from England to France after the defeat by Oliver Cromwell at Worcester in 1651.
The riverside Black Rabbit pub is a favourite of many or opt for the town centre-based Norfolk Tap which serves a range of beers from local, nearby breweries.
Petworth Park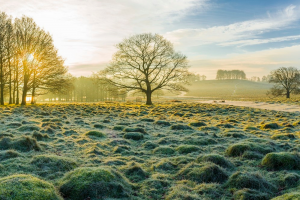 The Capability Brown-designed Petworth Park is a favourite for dog walkers.
Owned and managed by the National Trust, Petworth Park comprises some 700 acres of serpentine lakes, lawn hills and belts of trees make it the perfect winter landscape on a cold, frosty morning.
Home to the largest herd of fallow deer in England, Petworth Park is the perfect escape into a promising winter wonderland.
Once finished with your walk, why not head to the nearby Star pub or Stonemason's Inn for a liquid refreshment.
Steyning and Bramber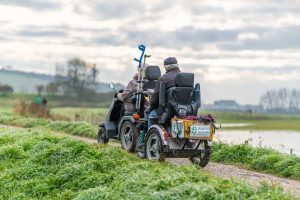 The historic village of Bramber with its medieval castle is quintessentially West Sussex in nature.
Neighbouring Steyning, Bramber is also the start and end point of a Miles without Stiles route – trails suitable for people with impaired mobility, wheelchairs, mobility scooters and pushchairs.
The linear 'there and back' route is 2.2 miles in length and follows the Downs Link path along the River Adur.
On a winter's day you can see flocks of Canada geese flying in formation up and down the river.
Steyning is a town rich in history. Once a port on the River Adur, it was prized by the Normans for its inland location and ease for accessing the Channel.
From Steyning, you can easily access the South Downs Way, where you can follow our 7 mile self-guided walk. By following the trail westwards, you will soon come upon Chanctonbury Ring, one of the highest points in the National Park.
Upon returning to Steyning, finish up at Victoria's Sponge for a cake and a cuppa or grab a refresher in the White Horse Inn.