A golden harvest and curious cows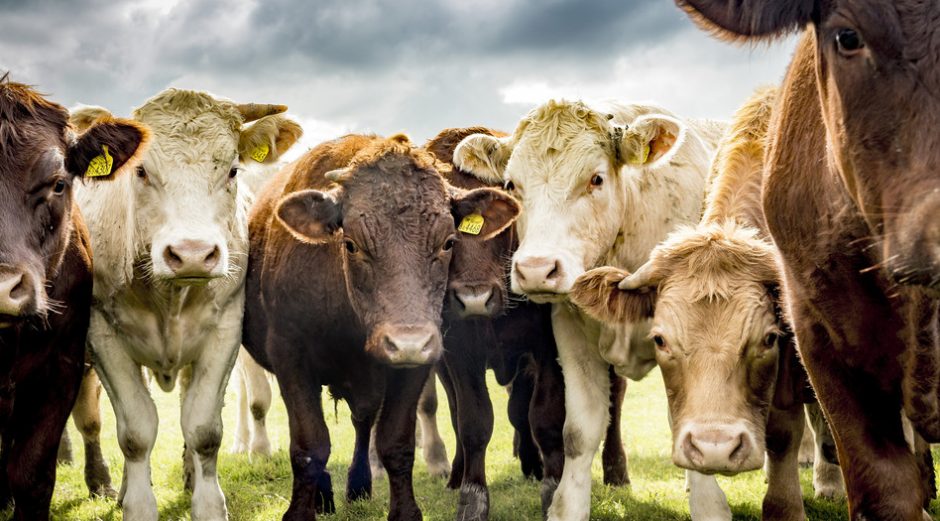 January 8, 2018
An extraordinary composition capturing the shifting seasons from summer to autumn has won first place in the South Downs National Park photo competition 2017/18 – theme 'Growing Places'.
The judges agreed that 'Harvest Home' by Ron De'Ath was technically perfect and clearly tells the story of farmers as stewards, caring for the National Park. Ron De'Ath, who took the picture from Butser Hill in Hampshire, wins £250 for his picture.
South Downs photo competition judge Steve Watkins, editor of Outdoor Photography magazine, said: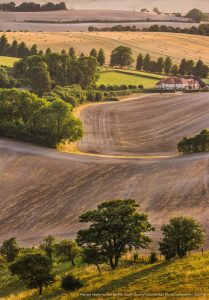 "Ron has subverted what could easily have been a conventional harvest shot – making the unusual choice to frame the picture vertically and leave out the sky entirely. The result is a wonderful winding journey through chalk grassland, ploughed earth and woodland, past farm house and field margins and on to freshly harvested crops, leaving no doubt that people live and work in this landscape."
Ron De'Ath, competition winner, said:
"I've been taking photos for more than 40 years and Butser Hill, one of my favourite hunting grounds. I try to convey to the viewer my feelings at the time of clicking the shutter which in this case were the sheer privilege of being in a place of such beauty which feeds the soul as well as the body."
The competition judges were Steve Watkins, editor of Outdoor Photography magazine; local photographer and gallery owner Finn Hopson; Rachael Talibart, winner of the Sunday Times Magazine's Landscape Photographer of the Year in 2016; Nick Heasman, Countryside & Policy Manager for the South Downs National Park Authority and Doug Jones, South Downs National Park Authority Member.
A moody crowd of cattle won second place and £150 for Dominic Vacher in 'Staredown', captured on Tegdown Hill near Brighton. The judges were impressed by the bold, almost human, composition and high level of detail in the picture. Three of the cattle are Sussex red, a traditional local rare breed, which have been grazed in this part of the country since the Bronze Age.
New South Downs photo competition judge Rachael Talibart, said: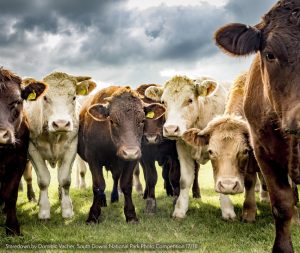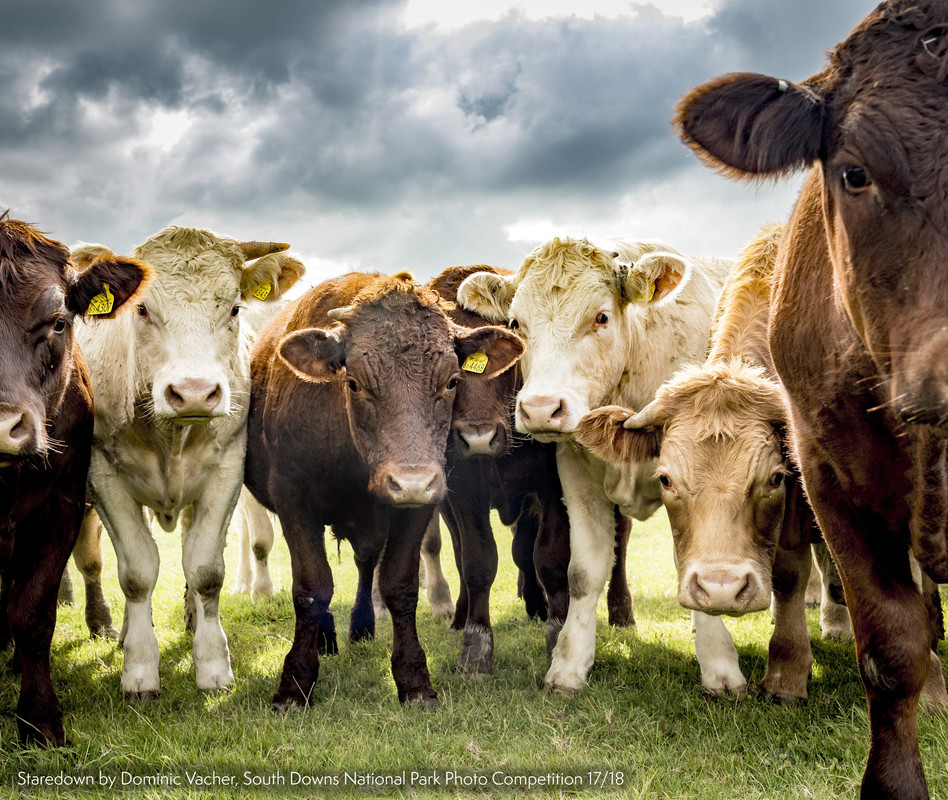 Meet the band! This is a strong picture which brings out the individual personalities of these curious young animals. I love how Dominic has caught the light on their whiskers and uncompromising stares. A lot of time and thought has gone into this photo."
Dominic Vacher said:
"During the summer I passed this large and inquisitive herd of cattle almost daily and they would regularly come over to investigate as I walked through their pasture. As time went on we got more confident with each other. On this occasion they greeted me at the stile, blocking my way, and when they saw my camera it was as if they all wanted to pose for me. No zoom lens required!"
A subtle and challenging image 'Rolling Down' won third place and £50 for Simon Verrall. The judges agreed that this beautiful not over-beautified shot, taken on Barlavington Down in West Sussex, tells an important story about how farmers manage the pressures on the land – with the South Downs' chalk showing clearly through the bare winter earth.
Nick Heasman, competition judge and Countryside and Policy Manager for the South Downs National Park Authority, said:
"This simple, modern composition captures a complicated tale of farming here in the South Downs. At first glance this image might look stark but here the light soil is everything and the farmer is carefully cultivating the ground using a modern practice called 'conservation tillage'. Come spring, this field will certainly be a place that grows and hopefully home to rare farmland birds such as skylark."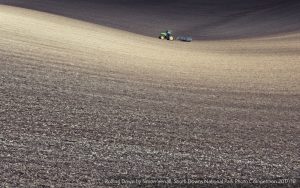 Simon Verrall said:
"The South Downs is an ever-changing environment and I wish I had more time to photograph it! My photo isn't a classic postcard view but a snapshot of day-to-day farming life. It is a reminder that, for many, the National Park is a place of work."
Vote for your favourite!
The three winning shots now join three highly commended photos to go forward for the people's choice.
Quick Links
Learn, Enjoy & Care For
National Park Authority
Planning