Walking the South Downs Way with Hip Dysplasia
My name is Jill, I'm 46 and I was born with severe hip dysplasia (DDH for short). In plain English that means that my hip joints didn't form properly before I was born – in fact most of my left hip just wasn't there. After nine surgeries, and a lot of time in a plaster-cast called a hip spica, I started walking when I was 3.
I can walk, but not with great speed and definitely not with grace! For a lot of my life I've tried to 'ignore' my different hips – pretend I'm like everyone else, avoid situations where it was obvious I wasn't (like sports) and 'protect' myself.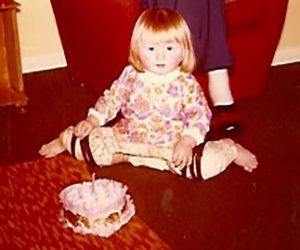 About a year ago, I started to consider things differently. I wanted to understand better how my different-ability has influenced who I am today. What if I didn't protect myself quite so much? Maybe I need to walk more, not less? Maybe I need to find out what my true limits are, rather than stop at the first sign of pain because 'I have a good excuse, right'?
So I've chosen to walk the South Downs Way. And to write a blog to share my experiences and challenges – openly and vulnerably. I'm walking and writing to raise awareness of hip displasia, which is actually quite common, and to raise money for a small charity called Steps. They provide information and support for people whose lives are affected by childhood lower limb conditions – something my parents would have loved had it existed back in 1971!
I grew up in Sheffield near the Peak District and I love the countryside. I find being part of nature so inspiring – even when it's challenging, or raining, or both! My Dad was a National Park warden for a while and I think our National Parks are a treasure to be protected.
I now live in the south east and a camping trip to Housedean Farm introduced me to the beauty of the South Downs. I'm not able to walk the 100 miles of the South Downs Way at once so I'm going to chunk it up and walk it over a year.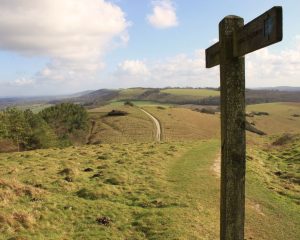 I started by training for a 10K race walk, then did a few test walks on the South Down Way. I started on the flat along the river near Alfriston (navigating cows), then walked about 6K along the ridge from Ditchling Beacon towards Lewes and back again (navigating rain and wind), and most recently made it up and down Beacon Hill which is closer to the Winchester end. I'm now hoping to walk the first section – 12 miles from Winchester to Exton – before the winter sets in.
My Ditchling test gave me my first views over the Downs from on high. Wow! It was so freeing to be close to such big skies, watching the sunlight reflecting cloud patterns across the chalk hills and corn fields. The walk down from Beacon Hill to Exton and back again was different, cutting across lush green farm fields (more cows!) and following the hedgerows filled with butterflies and grouse. It's really excited me about the variety of scenery and terrain I can expect as I make my way along the 100 miles from Winchester to Eastbourne.
I chose to call my blog diff-abled.co.uk because I identify with being differently-abled. Disabled focuses on what I lack, not what I bring. I'm not less, I'm just different. I see it like this – everyone is good at some things and not at others, and as we age, many of our bodies develop challenges even if we weren't born with them. Everyone is differently-abled and we shouldn't be afraid to show and share how.
I hope you enjoy reading about my journey, as I walk through our fantastic National Park. Maybe we'll bump into each other along the Way? Until then, happy walking!
My Blog: https://diff-abled.co.uk/
Follow me on Facebook at: https://www.facebook.com/WalkingJill/
Help me raise money for Steps via JustGiving
Steps Charity Website: https://www.steps-charity.org.uk/