His nationally-recognised work on wild flowers and butterfly conservation earned him the title "The Green Man of Sussex".
Now the green-fingered legacy of John Gapper will continue for generations to come in the newly-formed Wild Flower Conservation Society.
The community group has been created by the former volunteers at Stanmer Nurseries, near Brighton, with a mission to continue John's incredible work to promote biodiversity.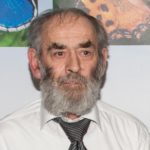 John, now 78, and his small team of volunteers produced more than 200,000 plug plants that were re-introduced as part of a chalk grassland restoration project and the creation of butterfly banks across Brighton and Hove.
In a similar vein, the Society will promote the importance of conserving our chalk grassland by propagating native chalk Downland wildflowers – in particular species that support a diverse range of wildlife such as Lotus Corniculatus and Hippocrepis Comosa.
The Society has now received a £1,500 boost from the National Park's Sustainable Communities Fund.
The grant will fund a new polytunnel at Stanmer for wildflower propogation. For the weeks and months ahead, John will be working closely with the volunteers to impart his unique and invaluable knowledge on the science – and art – of successfully nurturing wild flowers.
Harvesting seeds from existing chalk grassland sites, the volunteers plan to grow a variety of plug plants at Stanmer to repopulate existing areas and further enhance biodiversity hubs in Brighton and beyond.
Mark Rose, Co-ordinator for the Sustainable Communities Fund, said: "John Gapper has been quietly working in the background of Stanmer Park Nursery for more than 40 years to fulfil a lifetime's passion for conservation.
"His work has been instrumental in protecting precious chalk grassland and the many species these habitats support.
"For that reason we were pleased to be able to give this grant to the volunteers who will continue this important work for years to come."