Taking the lead to help conservation grazers!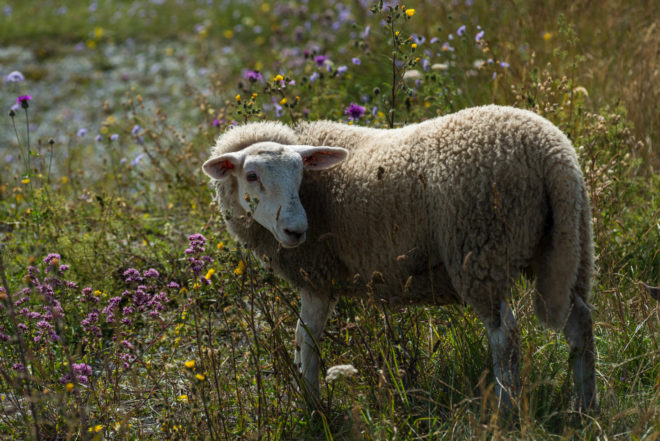 Olivia French, Heathlands Engagement Officer, takes a look at the simple things dog walkers can do to help wildlife flourish this year.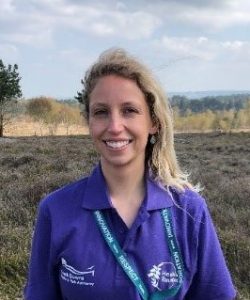 It's National Walk Your Dog month and with so many great places to explore with your four-legged friends in and around the National Park, we've got some top tips to keep you, your dog and the wildlife in the National Park happy and healthy.
With a network of 3,300km of rights of way there will be occasions where everyone using the National Park will come across livestock and it's important to understand the key role these animals have in protecting and enhancing the landscape.
Across the various habitats in and around the National Park, you will see livestock grazing of all different shapes, sizes and breeds. These animals are fundamental to maintaining a variety of key habitats. Conservation grazing plays a crucial role in maintaining rare habitats like chalk grassland and heathland by controlling species which would otherwise dominate areas through scrub encroachment. In the past, the countryside would have been grazed by wild animals or through traditional farming and common land grazing practices. Many landowners now seek to replicate these kinds of grazing systems to maintain and increase biodiversity.
So to protect these grazers, we're encouraging dog owners to follow a few simple steps:
Keep dogs on leads around livestock
Look out for signs and keep your dog on a lead around livestock. This prevents livestock worrying, which refers to when a dog attacks or chases livestock in such a way as may reasonably cause injury or suffering, which includes females aborting lambs and calves.
Pick up your dog's waste
Dog fowling is not only unpleasant; it's also extremely dangerous to wildlife and detrimental to delicate habitats. Dog poo can contain parasites such as Neospora, which if ingested by livestock can cause serious illness and even death. Dog waste also changes the nutrient levels in the soil, encouraging the growth of dominant species that can lower the biodiversity of that spot.
Follow the countryside code
The Countryside Code provides a guide on how to enjoy and share our natural spaces both with other users and wildlife.
So as you enjoy the countryside and head out for a walk with your pets this winter, take a moment to consider our amazing grazers and the small steps you can take to help protect them and our beautiful landscape!
For more information visit www.southdowns.gov.uk/take-the-lead/